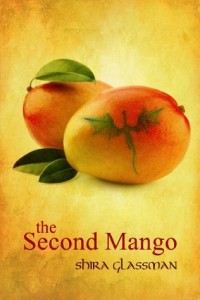 I borrowed Shira Glassman's The Second Mango from my local library.
Description from Goodreads:
Queen Shulamit never expected to inherit the throne of the tropical land of Perach so young. At twenty, grief-stricken and fatherless, she's also coping with being the only lesbian she knows after her sweetheart ran off for an unknown reason. Not to mention, she's the victim of severe digestive problems that everybody think she's faking. When she meets Rivka, an athletic and assertive warrior from the north who wears a mask and pretends to be a man, she finds the source of strength she needs so desperately.
Unfortunately for her, Rivka is straight, but that's okay — Shulamit needs a surrogate big sister just as much as she needs a girlfriend. Especially if the warrior's willing to take her around the kingdom on the back of her dragon in search of other women who might be open to same-sex romance. The real world outside the palace is full of adventure, however, and the search for a royal girlfriend quickly turns into a rescue mission when they discover a temple full of women turned to stone by an evil sorcerer.
Review:
Do I rate a book on my opinion of the story the author sought to tell or the one actually written? There are so many of aspects of this that I appreciate. It's a story of genuine friendship between women, with no romantic underpinnings. Unusually, the world appears to be based on Judaism, instead of Christianity. There is a character with a significant dietary limitation. The main character is a queen, not a princess, therefore inhabiting a position of power and authority. There is diversity in both the gender and sexuality arenas. The women save the day. In fact, there are hardly any significant men in the book at all; all things you rarely find in fiction.
But, but, but…if not for the sex, I would call this Middle Grade Fiction. The writing is that simplistic and childish. The solutions are come to that simply. The happy endings (for everyone) come about that predictably and everyone talks and acts with that level of maturity and deep thinking. The book feels like it's written for and by a child, a child with a firm grasp of grammar granted, but a child all the same. And if I thought it really was Middle Grade Fiction I could hardly fault it for that. But I don't think it is, so in the end, I'm just left with a kiddie book for adults.