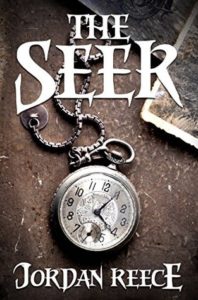 I picked up a copy of Jordan Reece's The Seer when it was free on Amazon.
Description from Goodreads
Detective Laeric Scoth is good at his job, but he's also an ass. And Jesco Currane has just gotten stuck with him on the most frustrating case of their careers. 
When the body of a courier is discovered in an alley, Jesco is called in to assist with his seer skills. All he has to do is touch the clothing of the deceased to identify the killer. But the victim has been stripped naked, and the only evidence at the scene is a timepiece. The people he sees within it have nothing to do with the murder, yet they must be related to the case. 
Chasing down leads with Scoth lets Jesco see another side of the surly, if handsome, detective. But as their feelings for each other grow heated, so does the investigation. Someone doesn't want them to know who killed the courier . . . and plans to add them to the death toll if they don't stop pursuing it.
Review:
I really quite enjoyed this. It has a sedate, slightly formal pace but it's really very sweet. Though it's more of a mystery with romantic elements than an actual romance. (All the sex scenes are fade to black, for example.)
While none of the characters are deeply sketched, I felt I knew them well enough. I also adored the side characters, Gaven and Tammie especially. I enjoyed the seer mythos, though I would have appreciated a little more information on the world and the existence of psychic abilities. The mystery was sufficiently mysterious and the ending satisfying.
I enjoyed the writing, but it could have done with a tad more editing. It wasn't bad; there were basically just enough errors for me to notice. But all in all, I call this one a win.