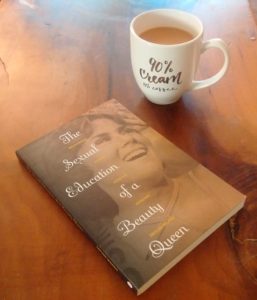 I won a copy of Taylor Marsh's The Sexual Education of Beauty Queen through Goodreads.
Description from Goodreads:
"The Sexual Education of a Beauty Queen" is at once memoir, commentary, enlightenment, and a little dose of self-help. Taylor Marsh was Miss Missouri and performed on Broadway, hosted a radio show, and starred in a one-woman show. She was also a relationship consultant for the nation's largest newsweekly, edited the web's first megasuccessful women-owned and -operated soft-core pornography site, worked as a phone-sex actress, and studied sexuality and relationships for years. She's been single, a girlfriend, a mistress, and a wife. She has the inside track to what men want, what women need, and how we all tend to muck it up. As a political commentator and popular writer, Taylor is intelligent and inspiring. She blends personal experience, pop culture, and the politics of sex in an entertaining, engaging, and inspiring read.
Review:
This was not a big winner for me, for several reasons. This despite the fact that I actually agreed with a lot of her final conclusions, appreciated her take on feminism and thought some of what she had to say, especially about the church, was very brave. The problem for me was that I think she should have stuck with an academic argument and left out the autobiography. Because often the biographical sections just came across as braggy and cluttered up the message she was trying to convey. But let me break down a few of my more specific complaints.
Marsh tried to simultaneously hold onto her "I'm so innocent," Midwestern beauty queen person and tell the reader about all the sexually liberated, kinky things she was doing. And it just didn't work. They really are kind of mutually exclusive.
Further, despite presenting herself as ultra liberal and accepting—she talked to prostitutes like people, after all—the book is full of micro-aggressions against the same people and demographics she's claiming to liberate. For example, stating that managing circus talent was the perfect previous experience for corralling the misfit strippers, models and XXX-raters who worked at a porn startup and denigrating the men who called the phone sex line for some of the more deviant fantasies. She seems to want to simultaneously be believed to be open and accepting of all fantasy, while also making it clear she maintains the moral and societal high ground. Again, it just doesn't work.
Also, several events in the book feel very re-remembered. For example, she claims to have started working in a sex phone bank explicitly for the opportunity to talk to men about why they call for phone sex. I seriously doubt she was being that introspective at the time. Some of these re-remembrances go all the way back to childhood. This goes along with how grandiose she seems to feel her contributions to feminism have been, though the scale doesn't seem to have been borne out in reality.
I get that this is an autobiography of sorts, but it's also presented as a bit of a self-help, behind the curtain look at various aspects of the sex industry. But very little of that materializes. The author says over and over again, "I was…" or "I did" or some variation there of. She was the first editor of a soft porn internet site. She was the first person to introduce an alternative personals page to a syndicated newspaper. She interviewed dominatrixes and prostitutes. She worked for a sex phone bank. But she says very very little about these things other than that she did them and even less that I would consider particularly enlightening on the subject. The whole thing just comes across as a self-centered brag book. We learn about her boyfriends and her relationships and she dropped several references to her own previous publications, but I finished disappointed. I mean a whole chapter in the beginning is dedicated to what she watched on television growing up. And while some of the feminist critique of early Hollywood was interesting, I just didn't care.
Worst of all, after telling the reader how bad rules on how to get a man are, even taking a website to task for swearing they wouldn't and then doing it, she ended the book on a list of rules for how to get your man. She didn't call it that, but that's what it was. Sure, it starts with know what you want, which is great and more female centric than a lot of lists, but it's still a 'what to do' list!
Put simply, a whole lot of this is about Taylor Marsh, not sexual education or sexuality or sex. And while that might work for some, it wasn't enough to keep me interested. I mean, where are all those "Relationship Secrets from the Trenches" we're promised. We never take our gaze off the narrator long enough to even realize we're in a trench, let alone learn anything from it.
Addendum: It's not really relevant in the content review of the book, but for those looking to read the paperback, it's worth noting that the font can't be any bigger that 10pt (it's notably  smaller than standard) and it's single spaced. I found it hard to read and I don't yet have age related eye constraints.
---
What I'm reading: Coffee with cream