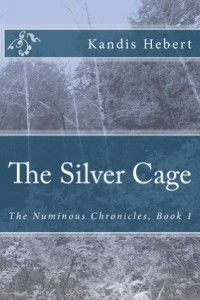 I snagged a copy of Kandis Hebert's The Silver Cage from the Amazon free list.
Description from Goodreads:
Amelia grew up in a world where monsters existed, but she'd never thought of them as such. As a teenager she'd left that world behind to create a normal life. When that normal life starts to unravel, she heads to the cabin she inherited from her parents to get away from it all. She soon finds herself being pulled back into a world of supernatural creatures when she discovers a werewolf in the woods outside her cabin.
Ethan isn't just any werewolf–he's the werewolf that broke Amelia's teenage heart. He also needs her help. Werewolves have been disappearing and Ethan was one of them. Unsure of whether or not to trust Ethan and his team, Amelia finds herself caught in the middle of the investigation.
Despite her reservations, Amelia can't resist the pull towards the man from her past. Seeing Ethan again ignites feelings long-forgotten and she knows it's only a matter of time before she succumbs to temptation and gives in to him.
Review:
Blergggg! Even worse, boring. Seriously, the main character watered her plants, fed her cat, washed dishes and went to bed (alone) about a billion times and very little of consequence happened until the last 15% or so. And even then, I had to wonder how they pulled it off so easily.
There was very little world building. The characters were extremely shallow. The whole premise made no sense at all. If they were so in love, I don't believe for a moment that for ten years neither of them would reach out to the other, once they reached adulthood (him especially). There are some painful clichés. The villain/ending is hella obvious! And the whole thing ends on a mother F%$&ing cliffhanger. There is no happily-ever-after, not even a happy-for- now ending. (Not that I don't already know how it will eventually end. There is so little new territory here that I could probably give you bullet points on the next book without even knowing the title.)
Nope, this one was not a winner for me. The writing and editing was fine (though there seemed to be some formatting issues). It was the story that failed for me.