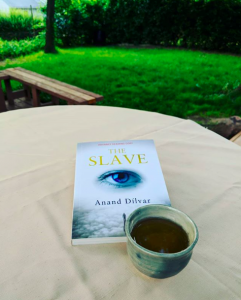 I won a copy of The Slave, by Anand Dilvar, through Goodreads.
Description:
Trapped in a vegetative state, following a terrible accident that has paralyzed his whole body, the narrator is unable to communicate with those around him. Cut off from family and friends so begins an inner conversation with his spiritual guide, a conversation which takes him on a journey of self-realization, bringing him eventually to a new state of consciousness, and an understanding of his deepest self.
Written with an engaging simplicity, this is a truly profound book which can change your life. In fact to use the authors own words, it is designed to shake, shudder and wake us up. It is a book that has nothing to do with success, social recognition, with the accumulation of goods; but everything to do with joy, love and peace.
Review:
Sooooo, I read The Slave and I rolled my eyes so hard I think I saw the back of my skull. Why do people keep publishing books telling others to accept reality and take responsibility for their own actions and emotions, while pretending this is some new ground-breaking idea? I'm pretty sure Lao Tzu said it in the 6th century (BCE). And it probably wasn't even a new idea when he decided to write it down!
The writing is stiff and there are several inconsistencies. For example, the unnamed protagonist was a John Doe at the hospital. But he was injured in a car accident at a party with people he knew. Surely someone could ID him to the paramedics. And his spirit guide was supposed to be part of himself and not know anything he didn't. But he could prompt enlightenment and teach lessons John Doe didn't know.
It was also vague on details. A hospital staff said the character was in "some sort of rigamortis." A doctor claimed his "heart stopped," instead of saying cardiac arrest or asystole. The girlfriend said she moved in with her aunt who lived "quite far from here," etc.
All in all, I found the whole thing sappy and unoriginal. It's been done better before.