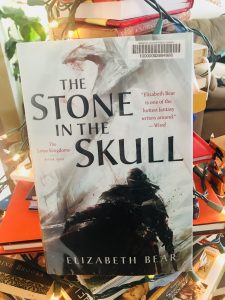 I borrowed a copy of Elizabeth Bear's The Stone in the Skull from my local library.
Description from Goodreads:
The Gage is a brass automaton created by a wizard of Messaline around the core of a human being. His wizard is long dead, and he works as a mercenary. He is carrying a message from a the most powerful sorcerer of Messaline to the Rajni of the Lotus Kingdom. With him is The Dead Man, a bitter survivor of the body guard of the deposed Uthman Caliphate, protecting the message and the Gage. They are friends, of a peculiar sort.
They are walking into a dynastic war between the rulers of the shattered bits of a once great Empire.
Review:
It took me a really long time to get into this and then, once I did, it ended on a cliffhanger. So, my overall experience was a bit meh. Apparently this is a followup to a previous trilogy; something I didn't know when I started it and might have contributed to my feeling disconnected from it for so long.
Having said all that, and having had an overall less than compelling experience with the book in general, I have to admit that the writing is beautiful, the world seems like it's probably interesting, and I liked the characters a lot. Bear is still and amazing writer.