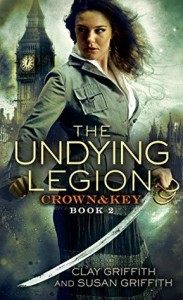 I received a copy of The Undying Legion, by Clay & Susan Griffith, from Netgalley. I read and reviewed the first book of this series, The Shadow Revolution, here.
Description from Goodreads:
When monster-hunter Malcolm MacFarlane comes across the gruesome aftermath of a ritual murder in a London church, he enlists the help of magician-scribe Simon Archer and alchemist extraordinaire Kate Anstruther. Studying the macabre scene, they struggle to understand obscure clues in the ancient Egyptian hieroglyphics carved into the victim's heart—as well as bizarre mystical allusions to the romantic poetry of William Blake. One thing is clear: Some very potent black magic is at work.
 
But this human sacrifice is only the first in a series of ritualized slayings. Desperate to save lives while there is still time, Simon, Kate, and Malcolm—along with gadget geek Penny Carter and Charlotte, an adolescent werewolf—track down a necromancer who is reanimating the deceased. As the team battles an unrelenting army of undead, a powerful Egyptian mummy, and monstrous serpentine demons, the necromancer proves an elusive quarry. And when the true purpose of the ritual is revealed, the gifted allies must confront a destructive force that is positively apocalyptic. 
Review:
Eh, this was OK. Not bad, but not as good as the first one either. I still liked the characters. I still liked that the women are fully engaged in action. I still liked the tone of the narrative and such. But, frankly, I was bored. It felt like the overly elaborate fight scenes went on and on. Then, as soon as they finally ended another started. This left very little time for the actual plot to play out and almost no time for further character growth. Maybe it's just suffering from second book syndrome. But the brevity of this review should tell you something. I was left with so little interest in the events of the book that I've nothing of note to say.