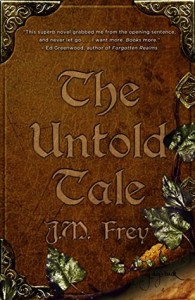 I received a copy of The Untold Tale, by J. M. Frey from Netgalley.
Description from Goodreads:
Forsyth Turn is not a hero. Lordling of Turn Hall and Lysse Chipping, yes. Spymaster for the king, certainly. But hero? That's his older brother's job, and Kintyre Turn is nothing if not legendary. However, when a raid on the kingdom's worst criminal results in the rescue of a bafflingly blunt woman, oddly named and even more oddly mannered, Forsyth finds his quaint, sedentary life is turned on its head. 
Dragged reluctantly into a quest he never expected, and fighting villains that even his brother has never managed to best, Forsyth is forced to confront his own self-shame and the demons that come with always being second-best. And, more than that, when he finally realizes where Lucy came from and why she's here, he'll be forced to question not only his place in the world, but the very meaning of his own existence. 
The Untold Tale gives agency to the unlikeliest of heroes: the silenced, the marginalized, and the overlooked. It asks what it really means to be a fan when the worlds you love don't resemble the world you live in, celebrates the power of the written word, challenges tropes, and shows us what happens when someone stands up and refuses to remain a secondary character in their own life.
Review:
I did a lot of flip-flopping while reading this book. I thought it started out well and then I figured out the schtick (twist) and groaned. It's cheesy, it is, but I got used to it I accepted it and enjoyed the book for a bit. Then, Pip started in on her lectures and I groaned again. I HATE didacticism in my fiction. Hate it, even when I agree with what is being preached. I mean, I love this quote, it verbalizes something I've long wanted words for (and it largely sums up the novel),
I spent my whole goddam academic career championing female character agency, fighting against lazy writing that falls back on epic fantasy gender stereotypes and utilizes rape as a back story excuse, against the half-assed conflation of strong female characters with violent female characters, screaming myself horse about visible minorities in fiction and the normalization of queerness, and what does the world I love best go and fucking do the goddamn millisecond I get here? Slaps me in the face and ties me down!
but the book frequently stepped over the line into lectures and I started to twitch a bit. They are no fun and I read fiction for fun.
I adored Forsyth and his fussiness, but thought his internal dialogue got repetitive and old. I hated K & B and then they suddenly showed up all lovely and contrite and I was supposed to forgive and like them; a swift transition I wasn't quite able to make.
I appreciated the critique of rape of female characters, even the subtextual suggestion that it is frequently presented as consensual, but there was far too much sex. It was gratuitous to the point or plot, serving no further purpose. I liked that Pip had emotions and anger, but it disappeared too quickly. I like that it was him who gave up his life, when it's usually the female, but disliked everything from that point forward. The book goes on for ever.
I went back and forwards between loving this book and disliking this book again and again. I 100% applaud the author's intent (which I saw as a feminist critique or subversion if epic fantasy), but I don't know that I necessarily enjoyed the journey.