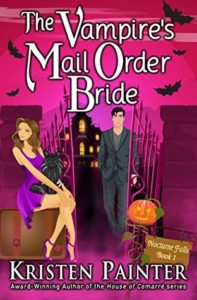 I picked up a free copy of The Vampire's Mail Order Bride, by Kristen Painter, on Amazon. It was still free at the time of posting.
Description from Goodreads:
Welcome to Nocturne Falls, the town where Halloween is celebrated 365 days a year. The tourists think it's all a show: the vampires, the werewolves, the witches, the occasional gargoyle flying through the sky. But the supernaturals populating the town know better.
Living in Nocturne Falls means being yourself. Fangs, fur, and all.
After seeing her maybe-mobster boss murder a guy, Delaney James assumes a new identity and pretends to be a mail order bride. She finds her groom-to-be living in a town that celebrates Halloween every day. Weird. But not as weird as what she doesn't know. Her groom-to-be is a 400-year-old vampire.
Hugh Ellingham has only agreed to the arranged set up to make his overbearing grandmother happy. In thirty days, whatever bridezilla shows up at his door will be escorted right back out. His past means love is no longer an option. Not if the woman's going to have a future. Except he never counted on Delaney and falling in love for real.
Too bad both of them are keeping some mighty big secrets…
Review:
This was a cute, fluffy idea that turned out to be heavy on the fluffy and short on just about everything else. There's an interesting set up, but that's all it is, a set up. The situation that sends Delaney into Hugh's arms pops up now and again, then drops away. It carries no tension and is never satisfactorily concluded.
Other predictable problems show up and resolve themselves with ease. Hugh has a pathological, phobic, paranoia-level fear that dissolves into thin air to such a degree that he goes to great sacrifice to obtain a magic to alleviate this fear and then starts the process in question before he even has it in hand.
Delaney is apparently a strong-willed woman because she speaks her mind (Yep, this is one of those he-loves-her-because-she-talks-back and isn't feminine books.), but it's never really believable because it lacks any sort of depth of character. All-in-all, that last comment kind of carries my opinion of the book in general. It's cute, but lacks any sort of depth or character.
Oh, and there is no mail-order bride. There's a vampire bride and a potential arranged marriage, but no mail order bride. It's a cute title, sure, but maybe it should have been made relevant. It is a clean read though, if that's your thing.