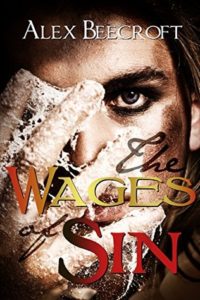 I picked up a copy of Alex Beecroft's The Wages of Sin from Amazon, when it was free. I have house guests, at the moment. So, I've only got a brief review for a short book today.
Description from Goodreads:
Charles Latham, wastrel younger son of the Earl of Clitheroe, returns home drunk from the theatre to find his father gruesomely dead. He suspects murder. But when the Latham ghosts turn nasty, and Charles finds himself falling in love with the priest brought in to calm them, he has to unearth the skeleton in the family closet before it ends up killing them all.
Review:
This was a good gothic-like ghost story, but the writing killed it for me. I liked the story, I really did. Unfortunately, the writing is purple, heavy, overly wordy and artificially intense. It distracts from the mystery and characters; ditto for the sex scenes. They are too long, too built up and given too much importance. There were times I wasn't even sure what was happening. It was too obscured in the language used. Don't get me wrong, it's pretty, but that doesn't excuse it.