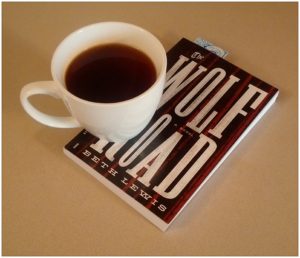 I won a copy of Beth Lewis' The Wolf Road from Library Thing.
Description from Goodreads:
In the remote wilds of a ravaged land, Elka has been raised by a man who isn't her father. Since finding her wandering in the woods when she was seven, he has taught her how to hunt, shoot, set snares and start fires–everything she needs to survive. All she knows of the world outside is gleaned from whispers of a cataclysmic event that turned the clock back on civilization by a hundred and fifty years and reduced governments and technology to shambles, leaving men at the mercy of the elements–and each other. 
Everything changes when Elka learns that the man she has been calling father is harboring a terrible secret. Armed with nothing but her knife and her wiles, she decides to escape his clutches and sets out on a long journey to the frozen north in the hope of finding her long-lost parents. 
But as the trail of blood and bodies grows in her path, Elka realizes that daddy won't be letting his little girl go without a fight. If she's going to survive, she'll have to turn and confront not just him, but the truth about what he's turned her into.
Review:
Wow, I really liked this. I consider it one of my very few five-star reads of the year. It wasn't perfect. There are a few convenient occurrences, the wolf is too anthropomorphized and I thought it dragged a little at certain points, but these are small complaints. I adored Elka's narrative voice and her no-nonsense character. The taut story telling kept me invested and the way it all unfolded was marvelously paced. All in all, I can't wait to read more of Lewis' work in the future.
---
What I'm drinking: French pressed, decaffeinated black coffee of no notable blend or brand.