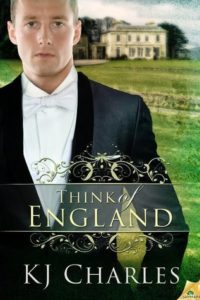 I bought a copy of Think of England, by K. J. Charles.
Description from Goodreads:
Lie back and think of England…
England, 1904. Two years ago, Captain Archie Curtis lost his friends, fingers, and future to a terrible military accident. Alone, purposeless and angry, Curtis is determined to discover if he and his comrades were the victims of fate, or of sabotage.
Curtis's search takes him to an isolated, ultra-modern country house, where he meets and instantly clashes with fellow guest Daniel da Silva. Effete, decadent, foreign, and all-too-obviously queer, the sophisticated poet is everything the straightforward British officer fears and distrusts.
As events unfold, Curtis realizes that Daniel has his own secret intentions. And there's something else they share—a mounting sexual tension that leaves Curtis reeling.
As the house party's elegant facade cracks to reveal treachery, blackmail and murder, Curtis finds himself needing clever, dark-eyed Daniel as he has never needed a man before…
Review:
Yep, you can add one more to the K.J. Charles fan list. I adored this. I liked that you really felt the time it was set in. Yes, it was unpleasant to read the slurs and class snobbery, but it also really brought home that THIS IS NOT THE 21ST CENTURY. And it was all very, very English; with the language and the food and the folly and the accepted Summer House rules. All very enjoyable.
I also very much enjoyed Archie and Daniel; Archie's straight forward, what he would call unimaginative honesty with himself and those around him, Daniel's masks and attitude and sharp tongue. I liked that Archie was just figuring a lot of stuff out about himself for the first time and refused to run from it. I loved the internal debates about if there is a difference between tossing a mate off and actually preferring men and what that means for an individual. (Sorry the whole 'everyone does it in school/college/army' trope is a little bit of a kink for me, I think. I ALWAYS wonder if it's true and if so, what the etiquette around that would be.) I loved the subversion of the idea of prim, sexually repressed Brits of the time.
The writing is sharp and well edited (no surprise there) and it wraps up nicely in a stand-alone story.
Note: There happens to also be a free short story that follows the last chapter of the book. It can be found here.