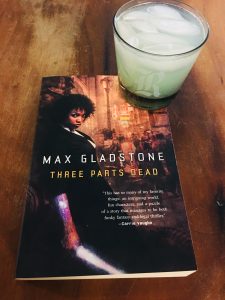 I bought a copy of Three Parts Dead, by Max Gladstone.
Description from Goodreads:
A god has died, and it's up to Tara, first-year associate in the international necromantic firm of Kelethres, Albrecht, and Ao, to bring Him back to life before His city falls apart.
Her client is Kos, recently deceased fire god of the city of Alt Coulumb. Without Him, the metropolis's steam generators will shut down, its trains will cease running, and its four million citizens will riot.
Tara's job: resurrect Kos before chaos sets in. Her only help: Abelard, a chain-smoking priest of the dead god, who's having an understandable crisis of faith.
When Tara and Abelard discover that Kos was murdered, they have to make a case in Alt Coulumb's courts–and their quest for the truth endangers their partnership, their lives, and Alt Coulumb's slim hope of survival.
Review:
I enjoyed this, but didn't love it. I adored Tara and Abelard. I thought quite a few of the quips were funny and the whole idea of wizard lawyers was interesting. I even liked a lot of the writing. But those parts of the writing I didn't like almost ruined the book for me. Too often the prose becomes abstract and purple in an attempt to describe something happening on a magical plain or in some's head or just magically in general and some of it is almost indecipherable. Similarly, things seemed to happen at breakneck speed with very little explanation, especially at the beginning.
All in all, this was a middle of the road read. But it was enough to tempt me to read more of Gladstone's work.