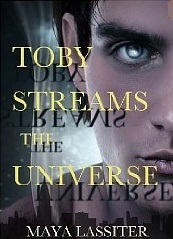 I downloaded Maya Lassiter's Toby Streams the Universe from the Amazon free list.
Description from Goodreads:
Toby Hay is a psychic living in New York City, supporting his screwed-up family using his visions to play the stock market. He also helps his private investigator best-friend with the occasional case–all while trying not to read the future of every person he meets. Such as Toby's new neighbor, a beautiful painter hiding from her violent Ex. Or Toby's psychic, sex-pot, sister, scared of her own future. Or his quirky virtual-assistant, struggling to care for her sick child. Toby wants to help them all, but his super-psychic father trained him not to interfere, lest he lose his own sanity in the process. Toby's father knew everything–he must have had good reasons for his rules. Of course, he vanished nearly a year ago…
Then a voice speaks in Toby's mind, offering a path away from the dark future predicted by the Family Histories–if only Toby will challenge what his father taught him and learn to use his visions, rather than merely control them. Now Toby must find his father, uncover the identity of the voice, and save his friends from their futures, all while figuring out how to live inside his own, increasingly strange mind.
Review:
I think Maya Lassiter has made it onto my auto-buy list. Unfortunately, I think the rest of her books are all YA, a genre I'm avoiding at the moment. But this is the second Lassiter book I've read this year and I just seem to love her style and her characters.
I really enjoyed Toby and his growing menagerie, especially Carl. There was humour and snark. There was a touch of romance. There was a bit of mystery. The writing was tight and well edited. Despite the cutesy and off-putting title, I basically loved the book.
OK, yeah, the ending was pretty predictable, I thought the manifested mermaids were a little cheesy and it was pretty pat how everything wrapped up in such a tight little bow, but on pure enjoyment, it's a win.