I won a paperback copy of Linda Howard's Toublemaker. I actually read it a few days ago (before Bless Your Heart), but somehow posting the review got missed. I'm correcting my error.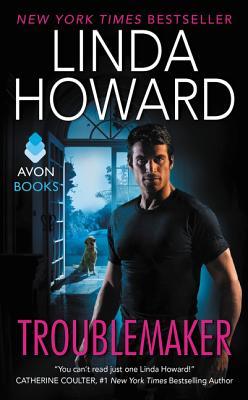 Description from Goodreads:
For Morgan Yancy, an operative and team leader in a paramilitary group, nothing comes before his job. But when he's ambushed and almost killed, his supervisor is determined to find out who's after the members of his elite squad—and why. Due to worries that this unknown enemy will strike again, Morgan is sent to a remote location and told to lay low and stay vigilant. But between a tempting housemate he's determined to protect and a deadly threat waiting in the shadows, keeping under the radar is proving to be his most dangerous mission yet.
The part-time police chief of a small West Virginian mountain town, Isabeau "Bo" Maran finally has her life figured out. She's got friends, a dog, and a little money in the bank. Then Morgan Yancy shows up on her doorstep. Bo doesn't need a mysterious man in her life—especially a troublemaker as enticing and secretive as Morgan.
The harder they fight the intense heat between them, the closer Morgan and Bo become, even though she knows he's hiding from something. But discovering the truth could cost Bo more than she's willing to give. And when Morgan's cover is blown, it might just cost her life.
Review:
This was ok, I guess. It's hard for me to truly judge, because I'm not a huge fan of contemporary romances (or romantic thrillers, which this might qualify as). But the writing wasn't bad and I was engaged enough to finish.
I had serious a problem with the bait and switch the book presents though. The blurb says that Bo (the female lead) is the police chief, which sets the reader up with certain expectations. But in fact, 'police chief' is a purely administrative position, with no expectations of actual law enforcement involved and no police training required. She's basically just there to do the paperwork the 'real' policemen don't want to be bothered with. At one point someone shoots in her direction (anything more specific would be a spoiler) and she has to be carried away, princess style, almost in a swoon. This is not at all what a reader expects after being told a female character is the police chief! So, from the get go I had one serious disappointment. I liked her well enough, but she wasn't the female lead I was promised.
On a more positive note, while Morgan was all alpha-male and cliched macho man who can't eat a salad, drink skim milk or read girly books, he was pleasantly un-asshole like. There were lots of consent moments, overt and subtle, and he was self-aware when his protective propensities countered with what Bo wanted. He never undermined her autonomy or forced her to do something 'for her own good.'
Then there was the true main character of the book, Tricks, the dog. She was cute and she lent a needed thread to the narrative. But I thought there was too much Tricks. I got tired of her being fawned over and made the center of attention. Plus, as a dog owner (with a pretty brainy canine) I thought a lot of the ways Tricks was accommodated was bad dog parenting. When they have to take a different car because otherwise Tricks would have to sit in the backseat, there is a problem. She is still A DOG.
All in all, I probably wouldn't have picked this up if I hadn't won it. But I wasn't disgusted at having read it either.