I bought a copy of Trust the Focus and Focus on Me (book 1 & 2 of the In Focus series), by Megan Erickson.
---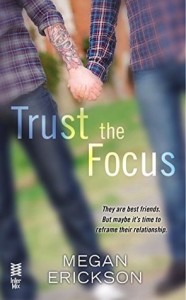 Description from Goodreads:
With his college graduation gown expertly pitched into the trash, Justin Akron is ready for the road trip he planned with his best friend Landry— and ready for one last summer of escape from his mother's controlling grip. Climbing into the Winnebago his father left him, they set out across America in search of the sites his father had captured through the lens of his Nikon.
As an aspiring photographer, Justin can think of no better way to honor his father's memory than to scatter his ashes at the sites he held sacred. And there's no one Justin would rather share the experience with more than Landry.
But Justin knows he can't escape forever. Eventually he'll have to return home and join his mother's Senate campaign. Nor can he escape the truth of who he is, and the fact that he's in love with his out-and-proud travel companion.
Admitting what he wants could hurt his mother's conservative political career. But with every click of his shutter and every sprinkle of ash, Justin can't resist Landry's pull. And when the truth comes into focus, neither is prepared for the secrets the other is hiding.
Review:
A sweet, if angsty, story that I generally enjoyed. I thought both Justin and Landry were fun characters to get to know and their romance felt real. (As did Justin's difficult position.) I even enjoyed their tentative sex. I'm not generally one for 'learner sex,' but, again, I thought it was sweet.
I did get a little board with the 'adventures,' though I completely understood the purpose they served, I thought the blog posts felt a little gimmicky, and I thought that the 'evil mother' was a little cliché, especially given how easily her mind seemed to be changed in the end.
But my overall response to the book was, "Well, that was cute." I'm looking forward to reading more of Erickson's work.
---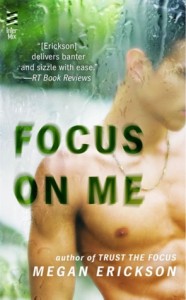 Description from Goodreads:
Colin Hartman can now add college to his list of failures. On the coast-to-coast trek home from California, Colin stops at a gas station in the Nevada desert, and can't help noticing the guy in tight jeans looking like he just stepped off a catwalk. When he realizes Catwalk is stranded, Colin offers a ride.
Riley only intended to take a short ride in Colin's Jeep to the Grand Canyon. But one detour leads to another until they finally find themselves tumbling into bed together. However there are shadows in Riley's eyes that hide a troubled past. And when those shadows threaten to bury the man whom Colin has fallen in love with, he vows to get Riley the help he needs. For once in his life, quitting isn't an option…
Review:
Another sweet story from Megan Erickson. The writing was wonderful and I liked the characters, but this wasn't really my style. I sometimes have an issue with encountering mentally ill characters in books. Now, I love diverse representation and mental illness is real and should be represented. I'm not saying it shouldn't. Nor am I saying it should somehow be exempt from being usable material for fiction; or even that I won't enjoy a book with mental illness as a theme. But sometimes, sometimes I feel like it shows up as a prop or that authors write books involving it so that they can be congratulated on their inclusive, acceptance of those living with mental illness rather than because they have a story to tell that happens to have a character with an illness.
I don't know that Erickson was doing this. I'm not gonna go guessing her motives about writing it. But I know that as I read the book, as much as I like Colin and Riley (and I did, Colin especially), I thought Riley's emotional collapse was so abrupt and Colin's reaction to it so stubbornly solid that I was left wondering if I should be taking more from the enjoyment of the story or from the lesson on the importance of getting appropriate help. It wasn't quite PSA level, but… Now, I did like that Erickson didn't have love fix everyone's problems. I appreciated that the men acknowledged that sometimes love really isn't enough.
And this is probably just my issue, what I am conditioned to feel when reading books like this one. IDK. Because, like I said, it was well written and I did like the characters. I also liked how the book tied into the previous one, while still remaining a stand alone title (though, like the previous books and the blogs, I thought the emails felt gimmicky, even if it's the only POV you get from Riley). I'll definitely be reading more Erickson books.