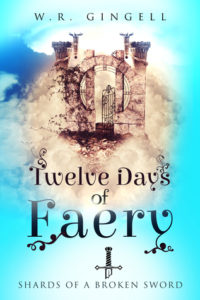 I picked up a free copy of W. R. Gingell's Twelve Days of Faery free on Amazon. (It was still free at the time of posting.)
Description from Goodreads:
King Markon of Montalier is at the end of his tether. His son, Prince Parrin, is afflicted with a rather nasty curse that slaughters, maims, or brutally attacks any woman with whom he so much as flirts. After the rumour that sweeps around the kingdom, promising that any woman breaking the 'curse' will be eligible to marry the prince, there is no shortage of willing volunteers. Unfortunately, there is also no shortage of bodies piling up. 
Markon needs to do something, but what? Can a visiting enchantress from Avernse help, or is she simply another accident waiting to happen? And will Markon be able to give her up to his son if she does break the curse?
Review:
Honestly delightful in an irreverent, slightly absurd, but purposeful way. I love that the POV is slightly off from what you would expect for a fairytale, that what Markon thinks of himself and what we're shown don't align in a charming way, that Althea runs circles around everyone without even batting an eyelash, that the hero/heroine are mature (Markon in his mid forties at least) and that the whole thing is written in a witty, engaging voice.
My only complaints are that I'm never pleased with the whole scorned woman turns villainous trope and some of the challenges were overcome a bit too easily. Though, to be fair, they weren't meant to be the focus of the book anyhow.
What can I say, I finished the book and immediately looked for more Gingell stories.