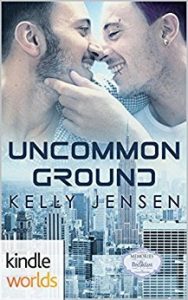 I bought a copy of Uncommon Ground
, by Kelly Jensen.
Description from Goodreads:
Dillon Lee's grandfather was a conspiracy theorist. Every summer he'd take Dillon on a tour of New York City while entertaining him with tales of aliens. Fifteen years later, after a phone call from a lawyer, Dillon is carrying his grandfather's ashes from landmark to landmark, paying a sort of tribute, and trying to figure out what to do with his unexpected legacy. When someone tries to steal the ashes, a guy Dillon has barely met leaps to the rescue, saving the urn and the day.
Steilang Skovgaard is a reclusive billionaire—and not human. He's been living in Manhattan for over twenty years, working on a long-term plan to establish a safe haven for his people. For seven years, his reports have gone unanswered, however, and he is the only surviving member of his interstellar team. The connection he forms with Dillon soon after meeting him is something he's missed, something he craves.
But after someone keeps trying to steal the ashes, it looks as though Dillon's grandfather was involved in more than theories—and might not have been exactly who everyone thought he was. Steilang doesn't know how close he can get to the truth without revealing himself, and Dillon is running out of people to trust. Can these two work out what's going on before the thieves set their sights higher?
Review:
This was first and foremost cute, I mean really cute. Lang and Dillon were adorable. It's worth a read just for that. And it is very readable. Kelly Jensen can sling a phrase.
Uncommon Ground is part of the Memories With the Breakfast Club series, which is the first Kindle World about gay men. And, though I've not read any of the other books, twice gay couples showed up that I suspect were characters from other books. So, for those following the series, I imagine that'll be a treat.
For all it's cute and part of a first, it's also a little too rushed for me. The two meet and end up in bed immediately. Which would be fine if it was just sex, but it's insta-love, insta-trust and insta-life partner. Similarly, an important plot point hinges on an unexpected arrival who is never developed into a real character and someone essentially throwing a tantrum. This allows for skipping any more complicated solution and deeper exploration of the themes of space exploration, loneliness, loyalties, loss, love, alienation, and identity, all of which the book touches on.
All in all, the book takes what could be a deep, meaningful read and instead presents a light, fluffy romance, which is well worth the time it takes to read. One isn't necessarily worth more than the other, but it helps to know what you're in for.