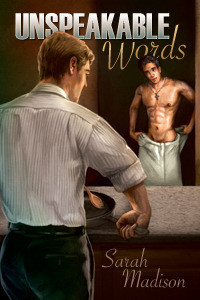 I picked up a copy of Unspeakable Words, by Sarah Madison, as a Dreamspinner freebie over the Thanksgiving holiday.
Description from Goodreads:
Special Agent John Flynn is everything Jerry Parker is not: dangerously handsome, coolly charismatic, and respected by his peers. Special Agent Parker is dedicated and meticulous, but his abrasive personality has given him a reputation for being difficult. When new information on a cold case appears, Parker is assigned to work with Flynn, and the sparks fly as their investigative styles clash. Contact with a strange artifact changes everything when it bestows unusual and unpredictable powers on Flynn… and the two men must learn to trust each other before a killer strikes again.
Review:
I'd give this a 3.5/5 and then round up for sheer enjoyment. Sure, the plot is a little wonky. The fact that the men are FBI agents is basically irrelevant for all the investigating they do. The whole set up for the serial killer is literally just dropped in exchange for something different all together and never picked back up again. The two characters' personalities aren't really all that consistent from beginning to end. But despite all that, I enjoyed the book. It's predominantly just the two main characters stuck together and getting to know one another. But it's cute and a little funny. Actually, it's a bit like a Mary Calmes book. Objectively I know it's not really a very good book, but I still liked it and I'd read more.