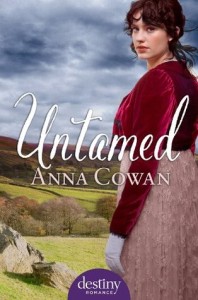 I bought an ecopy of Untamed, by Anna Cowan.
Description from Goodreads:
Outspoken and opinionated, Katherine Sutherland is ill at ease amongst the fine ladies of Regency London. She is more familiar with farmers and her blunt opinions and rough manners offend polite society. Yet when she hears the scandalous rumours involving her sister and the seductive Duke of Darlington, the fiercely loyal Katherine vows to save her sister's marriage – whatever the cost.
Intrigued by Katherine's interference in his affairs, the manipulative Duke is soon fascinated. He engages in a daring deception and follows her back to her country home. Here, their intense connection shocks them both. But the Duke's games have dangerous consequences, and the potential to throw both their lives into chaos…
Review:
Oh so marvelous! I was recently bemoaning the fact that I am so often disappointed in het romance book. In fact, I've largely given up reading them. Then someone described this book to me and I thought, 'well I have to try that don't I?'
But before I do, I want to address that cover. It's a perfectly fine cover, but it doesn't give you a clue to the raucous characters you will find within it.  I'd never have picked it up had I not been given a very strong recommendation.
Ok, with that out of the way, I loved Kit and the Duke. I just loved them. I loved the way she was so strong and he was so fragile. I just loved it. Now, another reviewer that I respect spoke to the fact that this is only just a reversal of male/female characteristics, not a true subversion of them. And I agree whole-heartedly. Really, it just highlights them in relief, which is still reinforcing them in a sense. But, experientially, I so enjoyed reading it that I'm going to overlook this fact.
There was also a certain intensity to the writing that I just wanted to roll around in. It was lush, even if it did occasionally cut into clarity. Again, just the experience of submerging myself in it was diabolically wonderful.
And (mild spoiler) as much as I loved that the happy ending came about almost entirely at the active, purposeful hand of Kit, I did think it was all a little too saccharinely perfect. She got her man, her title, her riches and her revenge. It was too much. But I'm still going to overlook that fact simply because I otherwise loved the book so much.