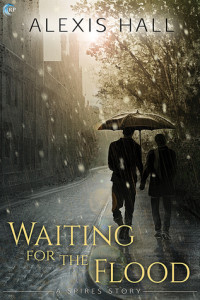 I received a copy of Waiting for the Flood, by Alexis Hall, from Netgalley.
Description from Goodreads:
People come as well as go.
Twelve years ago, Edwin Tully came to Oxford and fell in love with a boy named Marius. He was brilliant. An artist. It was going to be forever.
Two years ago, it ended.
Now Edwin lives alone in the house they used to share. He tends to damaged books and faded memories, trying to a build a future from the fragments of the past.
Then the weather turns, and the river spills into Edwin's quiet world, bringing with it Adam Dacre from the Environment Agency. An unlikely knight, this stranger with roughened hands and worn wellingtons, but he offers Edwin the hope of something he thought he would never have again.
As the two men grow closer in their struggle against the rising waters, Edwin learns he can't protect himself from everything—and sometimes he doesn't need to try.
Review:
I've basically come to the conclusion that I will read anything Alexis Hall writes and enjoy it. (Have a spare shopping list, good Sir? I could probably pass an afternoon with it.) I love the way he can pack such an emotional punch into fewer words than any author I know of. It's beautiful and I always (ALWAYS) fall in love with his characters. Waiting for the Flood is no different.
Having said all that, it didn't work quite as well for me as some of the others. Still loved it, just a smidgen less than, say, Prosperity. The reasons are that some of the vague wordage left unclear of exact meanings. I didn't care for the 3rd person intro to first person point of view chapters. (Though I loved the way the chapter title and first sentence merged. I was clever and created a wonderful sense of place.) Once the initial obstacle was overcome, the men seemed to jump from rocky start to relationship in milliseconds and I…OK, I hate to admit this but…I really felt Hall's Oxbridge education on this one.
This is something I find both endearing (because who doesn't like smart fiction) and off-putting (because some of it leaves me feeling a bit like a dullard in comparison). On the whole, however, I loved finding some wonderful surprise references, Edwin's carefulness with words, Mrs. P. (Mrs. P!), Adam's gentle insistence and two adult men addressing grownup concerns without the need for over the top drama. Certainly, opening yourself to love again is a daunting adventure of its own, if only looked at properly.