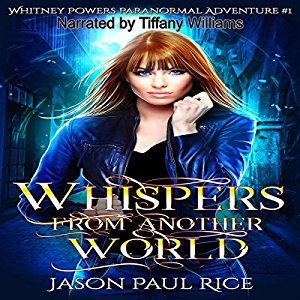 I received a Audible code for a copy of Whispers From Another World (by Jason Paul Rice) from the narrator Tiffany Willams.
Description from Goodreads:
A strong-willed woman. A new cop on the local force. Two lonely souls find each other and embark on a paranormal mystery adventure.
Twelve-year-old Whitney Powers looks at the books on supernatural phenomena in a dark corner of the Granny Larson Library. As she stares, the bookshelf begins to shake and a prism-like flash of light blinds her momentarily.
Whitney goes missing for the next three days. Finally, a local patrolman finds her a few miles from the library. Her explanation of the incident causes her to be ridiculed for the next eighteen years. Despite countless opportunities to leave and end the abuse, she's stayed in this small town.
Why has she always remained close to the Granny Larson Library, which is supposedly haunted?
What happened during those three days that's forcing her to stay back and work at the library?
Review:
I really hate doing this. I always feel guilty when I offer to review a book and then have to say bad things about it. I know there are reviewers out there that request a book to do just that. I'm not that person. I go into a book hoping to love it and I'm disappointed when I don't.
But honestly, this story just does not hang together. The ghosts are extraneous to the plot. Whitney is a random 'chosen one,' special for no apparent reason and far, far too perfect. But worst of all is the attempt an being a police procedural. Reasonably, if she didn't end up dead she'd be in jail for impersonating a police officer and interfering in an active investigation, instead of being given some vague 'clearance' and invited to work with the special police. None of it works! At all.
I try not to generalize. But I honestly think some male authors shouldn't try to write female characters. Whitney is so incredibly unlikable I almost can't verbalize it. The things she's supposed to think are important just make her horrible. Her whole life comes down to pettily rubbing 'her man' into the face of people who made fun of her. As if having a man makes her complete. I cannot tell you how many times I rolled my eyes, said "gross" out loud or made gagging motions. For real, if I hadn't accepted this in exchange for a review I wouldn't have finished it. It's that bad.
The writing seems mechanically fine, though I had the audio so I can't be certain. But its the sort that leans heavily on 'very,' 'extremely,' 'really' and far too many adjectives. Tiffany Williams did a fine job with the narration, but the story is an utter flop.