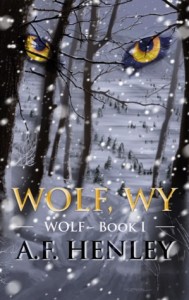 I received a copy of Wolf, WY (by A. F. Henley) from Netgalley.
Description from Goodreads:
There's nothing like a fresh start, and for Randy, still nursing wounds left by a cheating ex and harboring a deep mistrust for all things corporate, Wolf, Wyoming seems like the perfect place to start over. Secluded, quiet, and self-sufficient, Wolf is bound to not only inspire, but to bring Randy the peace he needs. The view's not bad, either.
Vaughn O'Connell and his family are Randy's only neighbors for miles, and while Randy knows it's somewhat unlikely that a man with three kids is gay, it doesn't hurt to look. When a misunderstanding brings Randy face to face with both Vaughn and his eighteen year old son, Lyle, Randy's not sure what to feel about either of them.
But things are not what they appear in Wolf, and the closer Randy gets, the stranger the O'Connell family seems…
Review:
This is a hard book to review, because there were some aspect of it I really liked, some that got on my nerves and then there was the ending which I thought fell apart. But on which of these do I base a review?
What I liked, I quite liked. I liked that Randy wasn't a pushover, even if he was out of his element. I liked that Vaughn put his family first. I liked seeing Lyle's situation. The scene in which Vaughn obliquely tells Randy about it is one of my favorite in the book. I thought the sex was sexy.
What I didn't like was the cliche, status-greedy mother (How many times can we read the same character?) and everything after Randy leaves Wolf. I had two main issues with the last bit of the book. The first was that if felt like it was simply trying to deliberately open the universe to allow for sequels. Two, it just got too saccharine and sweet for my tastes.
All in all, I quite enjoyed the book and Henley's writing style. I'll be up for more.