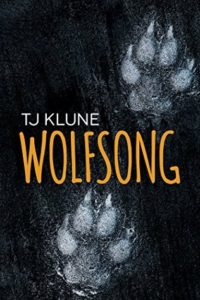 I borrowed a copy of T. J. Klune's Wolfsong through Hoopla.
Description from Goodreads:
Ox was twelve when his daddy taught him a very valuable lesson. He said that Ox wasn't worth anything and people would never understand him. Then he left.
Ox was sixteen when he met the boy on the road. The little boy who talked and talked and talked. Ox found out later the little boy hadn't spoken in almost two years before that day, and that the little boy belonged to a family who had moved into the house at the end of the lane.
Ox was seventeen when he found out the little boy's secret and it painted the world around him in colors of red and orange and violet, of Alpha and Beta and Omega.
Ox was twenty-three when murder came to town and tore a hole in his head and heart. The boy chased after the monster with revenge in his bloodred eyes, leaving Ox behind to pick up the pieces.
It's been three years since that fateful day—and the boy is back. Except now he's a man, and Ox can no longer ignore the song that howls between them.
Review:
Oh, I really loved that. Yes, it was a tad repetitive and the writing was occasionally more stylistic than easily readable, but overall I truly enjoyed it. It was tragi-sweet, as in most of it felt like a tragedy, but it was quite sweet too.
I think it's fairly safe to say that those looking for a standard, straight-forward romance won't be thrilled with this. I mean, the couple meets when one is 10 and the other is 16, so a large portion of the book happens when one is a child, no one is thinking romance. Then, just when the younger finally reached the age of maturity, he leaves. Plus, I wasn't lit on fire by the few sex scenes there were or felt I really got to know the non-POV half of the pairing. But I loved just about everything else about the book.
This was my first Klune book and I'll be coming back for more.