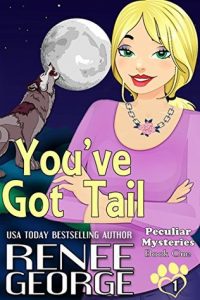 I picked up a copy of You've Got Tail, by Renee George. I think I got it from an Instafreebie giveaway.
Description from Goodreads:
Sunny Haddock, an animal-loving vegetarian psychic, is stoked to leave California behind to start a new life in the Ozark town of Peculiar with her best friend Chavvah Trimmel. She ups the moving date when Chav goes missing, and Sunny high tails it to the small town. What Sunny doesn't realize is that she's moving into a community of were-shifters, and they don't want a human resident. Especially one dumb enough to arrive a couple of days before the full moon—the only night of the month shifters have to take their pure animal forms.
When the gorgeous Babel Trimmel, Chav's younger brother, (along with the sheriff, the mayor, and some other nice folk) suggests Sunny haul her U-haul and butt back out of town, she's undeterred. Her psychic abilities might be out-of-whack, and blood makes her faint, but she's not a quitter. Besides, she's not about to go anywhere until she finds out what happened to Chavvah.
But Sunny has more to deal with than unfriendly townsfolk…like disturbing killer visions and the dog-like animal no one else sees that seems to be stalking her every move. To make matters worse, she is finding Babel to be more irresistible than crack on a donut.
Sunny needs to get her ability and her hormones under control if she wants to solve the mystery and save her best friend.
Review:
This review contains an oblique spoiler.
Corny but cute. All in all, I'll call this a middle of the road read. I liked the characters but I I didn't really feel the romance develop at all. Honestly, the writing was fine, but the plot left a lot to be desired.
The villain(s) are obvious very early on, one of them because it's always this person in such books. I mean ALWAYS. Is there a crazy ex-girlfriend who is hostile for no apparent reason other than she's not the heroine or in the heroine's circle? Well, there you go. That's you villain. ALWAYS. And as a woman that always makes me irritable. (I don't need the constant 'other women can't be trusted' lessons, thank you very much.) What's more, very little of the book actually focused on the bad guys. So, I never really felt the tension. You literally never even meet some of them.
Anyhow, it was an ok fluff read. I didn't dislike it but wasn't floored by it either.
As a side note: Publisher, if you are going to draw your covers, could you please at least have your designers/artists read the description of the characters? I understand when using stock phots you can't always find an appropriate match. But you drew Sunny and she's clearly described in the book (several times) as having brown hair.