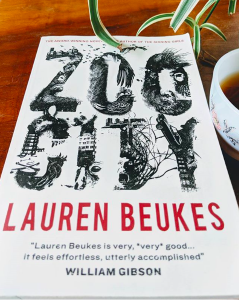 I bought a copy of Lauren Beukes' Zoo city.
Description from Goodreads:
Zinzi has a Sloth on her back, a dirty 419 scam habit, and a talent for finding lost things. But when a little old lady turns up dead and the cops confiscate her last paycheck, she's forced to take on her least favourite kind of job – missing persons.
Review:
A friend of mine saw that I was reading this and warned me that it gets quite dark toward the end. She wasn't kidding. Though I admit I really like the last little tidbit of a chapter, do not go into this expecting a happy ending. I kind of did and had to readjust my thinking.
Having said all that, I liked the book. I liked the African setting and characters (They are from several African countries. I don't mean to reduce a continent of peoples to a single, geographic designator.), the world and magic system, the plot and the writing. I got a bit thrown by some of the non-English words. I could have done with a glossary, but it was followable.
All in all, I liked it. I'm undecided about if I'll read the next one in the series, but mostly I ended this one happy.