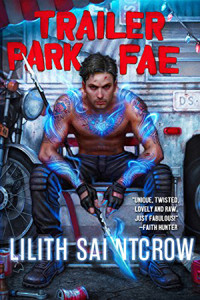 I borrowed Trailer Park Fae (by Lilith Saintcrow) from my library, mostly just because of the cover is so pretty.
Description from Goodreads:
Jeremy Gallow is just another construction worker, and that's the way he likes it. He's left his past behind, but some things cannot be erased. Like the tattoos on his arms that transform into a weapon, or that he was once closer to the Queen of Summer than any half-human should be. Now the half-sidhe all in Summer once feared is dragged back into the world of enchantment, danger, and fickle fae—by a woman who looks uncannily like his dead wife. Her name is Robin, and her secrets are more than enough to get them both killed. A plague has come, the fullborn-fae are dying, and the dark answer to Summer's Court is breaking loose.
Review:
So, this was not what I expected. I was expecting a light urban fantasy. It was, instead, a fairly dark read, which to be fair is kind of the more traditional Sidhe kind of story.
I'd still have been cool with a dark tale, though. I like gritty things. But this was just so darned slow. I mean, things happened. People died. There was a whole coup even. But it was all narrated in such a plodding, overly verbose, flowery, ho-hum kind of way that it felt dull. Plus, I wasn't really feeling the lack of pay-off in the end. I liked the characters and it's an interesting plot, so I can't say I didn't like the book. But I'n not sad to be finished with it either.