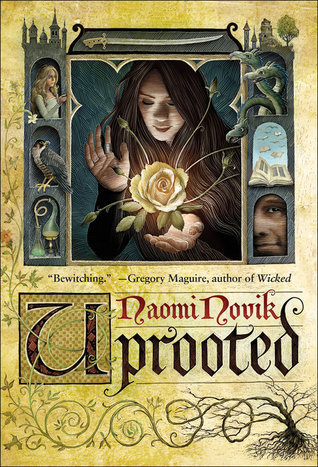 I borrowed and audio copy of Uprooted, bu Naomi Novik from the local library.
Description from Goodreads:
Agnieszka loves her valley home, her quiet village, the forests and the bright shining river. But the corrupted Wood stands on the border, full of malevolent power, and its shadow lies over her life.
Her people rely on the cold, driven wizard known only as the Dragon to keep its powers at bay. But he demands a terrible price for his help: one young woman handed over to serve him for ten years, a fate almost as terrible as falling to the Wood.
The next choosing is fast approaching, and Agnieszka is afraid. She knows—everyone knows—that the Dragon will take Kasia: beautiful, graceful, brave Kasia, all the things Agnieszka isn't, and her dearest friend in the world. And there is no way to save her.
But Agnieszka fears the wrong things. For when the Dragon comes, it is not Kasia he will choose. 
Review:
This is a perfectly fine version of what it is. And what it is, is yet another YA book about a young farm girl (woodcutters daughter, but same difference in context) who is discovered to have magic (but somehow never noticed until a man shows up to tell her about it), is taken to be trained, turns out to be massively powerful and more morally upright that the city folk, and saves the day through determination, perseverance and her amazing goodness.
Is Uprooted a quality version of this oft told tale? Yes, but is it still the same story I've read in dozens of books before this one? Also yes. As a result, I was pretty uninspired by the whole thing. Julia Emelin did a great job with the narration though.