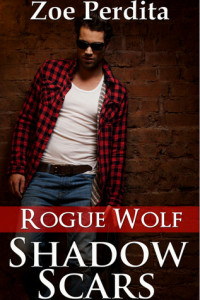 I grabbed a copy of Zoe Perdita's Shadow Scars from the Amazon free list. At the time of posting, it was still free.
Description from Goodreads:
Conner, a rogue wolf and murder detective, isn't looking for a lover when he moves to Haven City. He wants to solve crimes and keep to himself – unable to trust anyone since his pack betrayed him six years before. 
But Seth Alwen, his new partner, is different. He excites the wolf's animal instincts – waking up the passion Conner buried long ago. Seth's not only beautiful and alluring; he's also haunted by the death of his former partner. And despite his better judgment, Conner aches to relieve the man of his guilt.
Seth's a seer, but ever since his old partner died his powers have been on the fritz. 
Enter Conner Sharp, Seth's sexy and mysterious new partner. While the dark-haired stranger ignites Seth's desire, he also awakens the seer's power with every touch. Seth sees their future together – a future rich with lust and danger – but is it a future the enigmatic Conner wants?
As the two men solve a series of murders, their sizzling attraction overflows into the bedroom. Is the overwhelming passion just a fling or is it forever?
Review:
Eh. Ok, but not great. I have nothing particularly good or bad to say about this book. It was just ok. Conner and Seth are fine characters. I liked them ok. The sex was ok. The world was simplistic, but ok. The mystery was ok. It was basically something to hang the romance on and I didn't think it ended particularly satisfactorily. We were given a pretty pat 'and then this happened' wrap up as an ending that left more unexplained and open for the sequel than it explained. But it did conclude.
The writing was also ok. Nothing about it was particularly good, but other than a couple really annoying things (like hips that buckle instead of buck, even when a person is laying supine) and some repetition, nothing about it was bad either. It was all ok. (Could have done with a tad more editing, though.)
This is one of those books you read and forget because it all just feels so insubstantial and flat. But if I found the sequel as a freebie I'd give it a read.