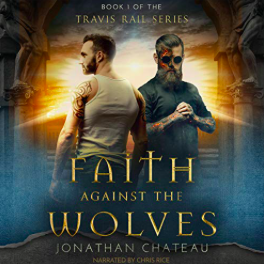 I picked up a free Audible code for Jonathan Chateau's Faith Against the Wolves somewhere around the internet. Though it doesn't seem to be available for purchase anymore.

A professional transporter of supernatural goods has his faith tested when given a chest that contains something allegedly touched by God.
Meet Travis Rail, a professional transporter of supernatural goods. Aside from his martial arts proficiency, skill behind the wheel and solid track record of deliveries, what makes him qualified to do what he does is that he doesn't believe in the supernatural claims of his clients – which keeps him objective, honest and detached.
Or so he thought.
When his latest client has him transport a chest containing something allegedly touched by Jesus, his world gets turned upside down. Not twenty minutes into the delivery the Rift show up – an underground cult hell-bent on collecting all of the treasures of God. However, it turns out that not only were they after the chest, they were after Travis as well.
"Who exactly are the Rift? Why do they want him dead? And is what he's transporting truly of Jesus?"
In his quest for answers, Travis is reluctantly thrust into another delivery, transporting yet another one of God's treasures. And the closer he gets to completing this delivery, the more he learns that what he's delivering might just be bigger than the package itself.

When I started this, the first thing I heard was, "This is Faith Against the Wolves, a supernatural thriller." It's quite insistent about being a SUPERNATURAL thriller, insistent enough to put it in the tile of the Audible tract. Which is all well and good, except that it isn't just a supernatural thriller. It's a Christian thriller, maybe a Christian supernatural thriller or supernatural Christian thriller, but that Christian really can't be left out and maintain honesty. I've read plenty of books that use religious material as plot fodder and plenty more that have subtle (and not so subtle) religious themes. This is neither of those. This is a flat out religious book. I would go so far as to call it a homily on prayer even. I mean, an angel (among others) comes to Earth to lecture the main character on how to properly pray, for goodness sake.
And I have no problem with it Christian stories generally. But I'm not a fan of proselytizing on the best day and I'm really not a fan of the sneak attack. If an author wants to write religious fiction, fine, but be honest about what it is!
Outside of my annoyance about it not being honest with it's sub-genre, I thought it was an OK read (listen). An awful lot of it consists of Travis getting beat up and I might quibble with the oh-so-cliched use of a woman using her sexuality as a weapon as a villain. But it has a story that moves along nicely and I appreciate that, for religious fiction, it at least acknowledged Christianity's bloody past. Chris Rice did a fine job with the narration, though I noticed a few grammatical mistakes. Hard to tell who those fall on though, the author or narrator, but there you have it.
All in all, I'd call this a fine, but not outstanding read for me, personally. Your mileage may vary.