Night in His Eyes (by Alisyn Fae/Emma Alisyn) was featured over on Sadie's Spotlight some time back. So, when I saw a chance to nab an audio code for a copy, I took it.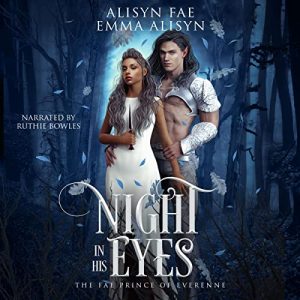 A war of Fae Houses. A Prince waking from darkness. A woman drenched in his blood.
Prince Renaud, my mother's killer, is waking. The Court has not felt the full weight of an Old One in centuries, and it's my fault.
I am Aerinne Capulette, Lady of House Faronne, and I will have my vengeance against House Montague and Renaud. But despite the ground war I've led since I was a child, we remain locked in bloody stalemate.
If the Prince takes the field against us, he will rip from my mind the secret that will shred any hope for peace, or victory.
He will kill me if he discovers the truth. . .
. . .sweet, foolish child. Your death is not what I desire. I have not waited, watched, and planned for centuries to let something as petty as a halfling girl's vengeance keep me from claiming what is mine.
To protect you, and to ensure my reign, I will bend you to my will. I will slake this obsession with your blood and tears, and I will yield you to no one.
Let your House protest. Let my Court look aghast. They are nothing.
And you—you are my anchor.
We may be enemies, but your hatred only seduces my darkness.

I'm torn about how I feel after listening to this book. On the one hand, it sets up an interesting world with interesting characters. I especially appreciate the mixture of Europeanesque fae lore with Kenyan culture and characteristics. Plus, the writing (and the narration) are perfectly functional.
On the other hand, the events of this book don't seem to be anchored into any identifiable, over-arcing plot. I've finished it now, and other than the lust between the two characters, I DO NOT KNOW WHAT THE PLOT WAS OR WILL BE GOING FORWARD. And that's a pretty big deterrent when thinking about continuing into the next book and beyond.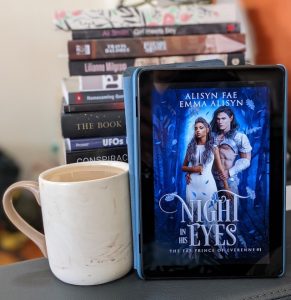 I also don't particularly consider it a romance. The power imbalance prohibits it. I sense this might be addressed at some point. But as of the end of this book, one is powerless because the other holds all the power in all situations.
I am undecided if I will continue the series. Maybe if I come across a free copy of book two, I'll read it, but I can't see putting any effort or money into acquiring it.
---
Other Reviews: