You may not know this about me, but I generally distrust large corporations. I always assume that, with millions of customers, they'd not be bothered with the loss of one. Thus, there's no real incentive to go out of their way to be helpful. And while this may be true, true even for Amazon (I've heard any number of horror stories), it wasn't at all true of my most recent interaction with them.
About 1:00 Friday afternoon, I had a crisis. I picked my Kindle up off the table and noticed what I thought was a scratch on my screen. That opinion quickly changed, as I noticed it was instead a crack! I had (have) no idea how it came to be. As far as I know, it's never been dropped or sat on. My Kindle and I spend hours together most days. I treat it accordingly. I gentle it.
The crack was small. I was vexed, but thought I could live with it. However, within half an hour of reading, it grew to two – two and a half inches and was starting to affect the functionality of the touch screen. I sadly accepted that it was done for.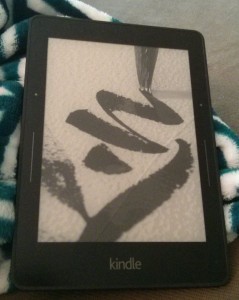 I set the poor thing aside and contacted Amazon customer services, via the chat option (noticing as I did that the crack was still growing). I was transferred to Charan Teja, who asked me once if the device had been jarred or submitted to any sort of pressure. When I said 'no,' they immediately offered to replace the Kindle, as there is no easy fix.
Now, I'll grant that I order a lot from Amazon and I rarely return items. On the matrix of customers most likely to be trying to pull some sort of fast one, I'm probably pretty low. But I contacted Amazon fully prepared to be told that screens weren't covered by the warranty or that I must somehow be responsible. I at least expected to be grilled on the subject. I expected to terminate contact angry and impotent feeling. The painlessness with which it all transpired instead was awe-inspiring to me.
I was emailed a return shipping label to send the broken Kindle back for free (in the box the new one arrives in) and told that my replacement Kindle would arrive Sunday the 17th. I actually laughed at this, assuming (perhaps rudely) that Charan must not be American and know that there is no Sunday post.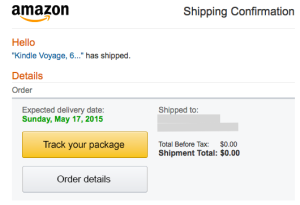 Regardless, I expected my new Kindle by Monday and was perfectly satisfied with this. I'd have actually been happy with regular old snail mail and a week-long delivery time. It's still better than a permanently broken e-reader. Either way, I figured I'd finally get some of the physical books that I'd been meaning to read cleared off the shelf while I waited.
But the unexpected happened. Here I sat at about 8:00 this Sunday morning—unwashed, my hair pulled messily back, still in my pajamas, sipping idly at a cup of decaf coffee (yes, I know, but I've temporarily given up caffeine)—when there was a knock at the door and a USPS van in my drive.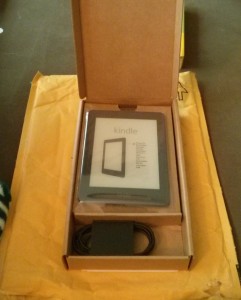 Less than 48 (weekend) hours from contacting Amazon I have a new Kindle in hand!  Any way I slice that it's impressive. (And have I lived under a rock that I didn't know there were Sunday deliveries?)
Thank you Amazon and USPS!