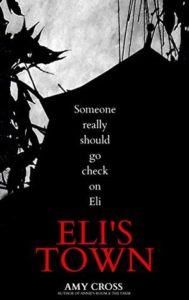 I got Eli's Town, by Amy Cross, from Amazon as a freebie. It was still free at the time of posting.
Description from Goodreads:
"Someone really should go check on Eli…"
Every year, someone from the Denton family travels to the town of Tulepa, to check on weird old uncle Eli. This time around it's Holly's turn to make the journey, but when she arrives she discovers that not only is Eli missing, but the locals appear to be hiding something.
Meanwhile, a strange curse seems to have struck the town. Every day, at exactly noon, one resident drops dead. Is the string of sudden fatalities just a coincidence? If it's something more sinister, why does no-one seem to be trying to uncover the truth? And what do these deaths have to do with the disappearance of Eli Denton, a strange old man who has barely even left his house in more than a decade?
Eli's Town is a horror novel about an eccentric but seemingly harmless man who discovers a new way to live, and about his niece's desperate attempt to uncover the truth before she too succumbs to the town's mysteries.
Review:
I found this to be a perfectly passable horror-suspense novel, along the lines of M. Night Shyamalan's film work. It had a similar atmospheric feel. It kept me guessing until fairly far into the book and had a truly creepy antagonist.
I did think the ending felt a little deus ex machina. The boyfriend, Dean, felt especially like a caricature of a pickup artist boyfriend, which I found hard to believe considering how long they were meant to have been together. And I had a little trouble believing no one ran from town before they weren't able, considering how obviously odd it was. Even raised in isolation, I think people like Tatty would have high-tailed it out of there.
But all in all, it was an enjoyable read. I'd be perfectly willing to pick up another Cross book.