This was a bit of a late addition to the Christmas Reading Challenge, because the book almost got missed; lost in my shelves as so often happens to books. But basically by accident, I stumbled across it and immediately set to reading it for this year's challenge. (It was almost Christmas miracle-like, I tell ya.)
I won A Hopeful Christmas last year and had every intention of reading it then. I don't remember now what back-burner-ed it. But it's irrelevant, as I've read it now.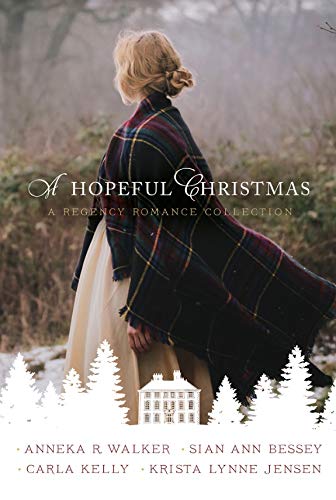 Kindle the spirit of the season as four of your favorite storytellers weave tales of love and hope in this charming yuletide collection.
Lord Blakely's Gift
When Miss Ivy Hunt and Lord Curtis Blakely establish a secret acquaintance, neither can deny that their feelings extend beyond friendship. But as the children of bitter rivals, it will take a Christmas miracle for this star-crossed pair to reach their happily ever after.
A Season Of Hope
Following the death of her father, Amelia knows Christmas will be lean. But when circumstances become dire, it is the unexpected arrival of a childhood friend that renews Amelia's hope—both for the future and for love.
Christmas By The Sea
After two years at sea with the Royal Navy, surgeon Will Crenshaw longs for a quiet Christmas with his family. But when unrest at home threatens to ruin the holidays, it takes the kindly intervention of a mysterious house sitter to remind them of the true meaning of the season.
Expectations At CanterWood
Marina Rowley is a spinster, Richard Stanhope a war-weary military man. A case of mistaken identity throws them together, but the unexpected stirrings of their hearts lead to an unforgettable holiday romance.

I'll post individual reviews of each story—written at the conclusion of each—and then sum it all up with some general thoughts at the end.
Lord Blakely's Gift, by Anneka R. Walker
I actually thought this was really sweet. The writing flowed well, the characters were relatable and likeable, and I was happy to see everyone get their happily-ever-after. Some of the changes of heart felt a little miraculous, but then they're supposed to be. Personally, I would have been happier to have focused more of Christmas miracles and less on "pray for your Christmas miracles" and all the other sundry God bits. But this is from a Christian publisher. So, it is what it is and that's 100% just personal preference, not quality related. Lord Blakeley's Gift is a nice Christmas novella.
A Season Of Hope, by Sian Ann Bessey
I generally enjoyed this. I thought it was generally well written and very sweet, with likeable characters. I liked it so long as I ignore one thing. I have a large qualm with a small part of the story.
The story is set in 1816 and it's stated that Philip had spent the previous 5 years working on his uncle's sugar plantation in the West Indies. It's stated that he worked hard, invested well, and returned wealthy. Here's the thing, I'm no historian (so, I keep hoping I'm missing some knowledge that would make this untrue), but slavery wasn't abolished until 1834 in the West Indies (and even then many previously enslaved peoples weren't functionally free for several years past that, what with the forced apprenticeships and such). The story refers to the plantation's "workers" more than once.
My issue is how effectively this language obscures the fact that Philip almost certainly must have spent the last 5 years actively participating in the enslavement of other human beings. This is not at all engaged in the story. In fact, I don't think the reader is even supposed to notice it at all. But I have a hard time imagining both the plantation's man with the whip and the good son/respectable hero being the same person. Honestly, this just overshadowed the whole story for me.
Christmas By The Sea, by Carla Kelly
I'm of two minds about this story. The writing is very good and I really liked that this is a story about an established married couple, with children. The vast majority of Regency Romances are about people falling in love. I truly appreciated a devoted husband and wife romance. I also found the difficulties of a marriage between people of different social statuses interesting. It made for engaging conflict. But I also found the eventual events super predictable and sadly sappy. I enjoyed the buildup significantly more than the climax.
Expectations At CanterWood, by Krista Lynne Jensen
I liked this last story quite a bit. I enjoyed Marina's wit and the realities of Richard's unnamed, but present PTSD. I also appreciated that this story was notably less religious than the previous stories. It did feel as if there might be a previous story or book preceding it (Julia and the Vicar's romance) and I'd have appreciated knowing that. But all in all enjoyable, with nice writing, and a bevy of fun side characters.
***
Looking at this collection as a whole, I liked it more than I expected to. I appreciated that these stories were long enough to allow for robust plot development, even if not full book length.
Regency romance, clean Regency romance at that, isn't a favorite genre of mine. Plus, I largely avoid explicitly Christian stories if I can (any religion, really). As I mentioned above, this is from a Christian press. So, I knew going in there would be no avoiding God. I admittedly went in with some trepidation. Luckily, I found the Regency settings charming and none of the stories proselytizes too strongly (and the last almost none at all). So, while I noticed everyone's devotion to The Spirit, I wasn't put off by any of it. I'd read any of these authors again.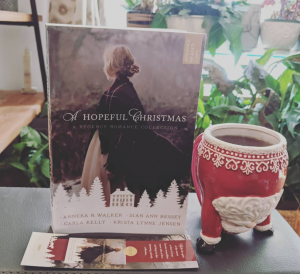 ---
Blog Tour and Review: A Hopeful Christmas
A Hopeful Christmas by Krista Jensen, Carla Kelly, Sian Ann Bessey, and Anneka Walker | #BookReview @KristaLJensen @covenant_books #NetGalley #HistoricalRomance
---
Come back tomorrow. I'll be reviewing Mr. Frosty Pants, by Leta Blake.