I picked up a copy of Gillian St. Kevern's Thorns and Fangs from the Nine Star Press website.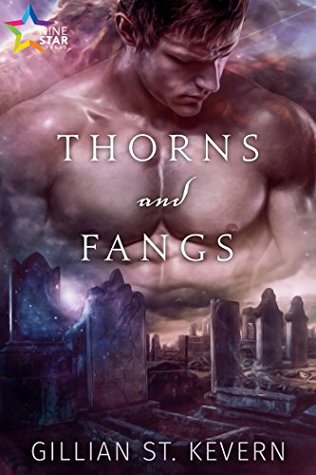 Description from Goodreads:
Nate is caught between two dangerously hot vampires who can compel people to do whatever they want and a ruthless necromancer who wants Nate for all the wrong reasons—and that's only the start of his problems.

Escort Nate prides himself on two things: his ability to please his clients and his normality – living in the monster capital of the world, ordinary is rare. Hunter, a darkly charming vampire with more charisma than is good for him, decides Nate is just what he needs. Nate's sympathetic nature and skill in the bedroom are put to the ultimate test. But Hunter wants Nate for someone else – his brother, Ben. Nate is immediately attracted by the control with which Ben holds his sensitive nature in force. Too afraid of becoming a monster to allow himself to feel, Ben struggles to resist Nate's generosity of emotion. As a vindictive necromancer makes Ben his target of revenge, Nate discovers that making people feel good doesn't compare to making Ben feel. As Nate's normal world crumbles around him, and he desperately searches for a way to save Ben, Nate is unable to escape becoming the necromancer's latest victim.

But Nate's death is only the beginning. Coming back to life in the bathroom of Gunn, a Department Seven officer who hates the vampire family that Ben and Hunter belong to, Nate doesn't know who to trust or even what he is. As the necromancer's trap pulls tighter around himself and Ben, Nate is forced to let go of normal and embrace powers he doesn't fully understand. In defiance of Ben's vampire sire and hunted by Department Seven, Nate and Ben finally learn to trust and rely on each other. But when the necromancer succeeds in capturing Ben, Nate alone can come to his rescue.
Review:
I quite enjoyed this, but I'm not entirely sure it knows what it wants to be. It starts out quite erotic, heavy on the sex (including a 4-way ménage and double penetration). But then all that is set aside and most of the book is a paranormal thriller, with two leads who feel quite young. If not for the way it starts, I might call it a New Adult book. (The main character is 21, after all.) I had some similar complaints with pacing. The book feels longer than it is.

Having said all that, I did enjoy it. I liked the characters. I liked the paranormal world set up. I found quite a lot of humor in it, and the writing/editing is pretty sharp. I'd be more than willing to continue the series.