One of my challenges this year is #ReadDiverse2017, which is hosted by the Read Diverse Book blog. It's fairly self explanatory, as far as challenges go. The idea is to read and review diverse books.
Eligibility being (and I'm quoting the RDB blog, here):
Books written by people of color or Native/Indigenous Peoples
Books about people with disabilities (physical, neurodiversity, etc.)
Books with LGBTQIA protagonists or about LGBTQIA issues 
Books with practicing Muslim, Jewish, Hindu (i.e. non-Christian) MCs

Please prioritize #ownvoices for this category
Marginalized authors take priority for #ReadDiverse2017. At all times, please consider reading books written by POC, Indigenous, LGBTQIA, and Disabled authors, #ownvoices whenever possible.These will always qualify, whether they are #ownvioces or not. If a straight, white, able-bodied author writes a book with a straight, able-bodied POC protagonist, the book will not qualify. UNLESS that book is intersectional. For example, if the protagonist is a POC and Queer or disabled, then the book will qualify. I make this distinction because books with Queer/disability representation are more rare than books with POC/Indigenous rep and there are some great books out there with Queer/disability rep by non-mariginalized authors. I also encourage you to seek out books with plus-sized/fat protagonists, especially if they have other marginalizations, such as plus-sized+POC/Queer/Disabiled.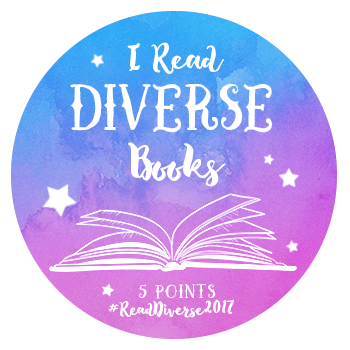 Today's little update is to say that I earned my 5 point badge. (See that shiny badge above?) Meaning I've submitted five eligible reviews of diverse books. I could maybe have submitted more, I read enough M/M romance after all. But I personally have a little trouble seeing 'white boys kissing' (that's quoting someone, I just don't know who) as qualifying. So many such books are written for a cis-gendered, white, straight female audience. So, in the spirit of the challenge, if not the explicit rules I haven't submitted them.
These are the ones I did: