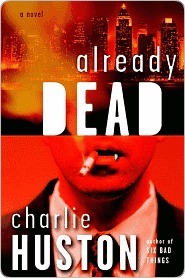 I borrowed a copy of Already Dead, by Charlie Huston, from the local library.
Description from Goodreads:
Those stories you hear? The ones about things that only come out at night? Things that feed on blood, feed on us? Got news for you: they're true. Only it's not like the movies or old man Stoker's storybook. It's worse. Especially if you happen to be one of them. Just ask Joe Pitt. 

There's a shambler on the loose. Some fool who got himself infected with a flesh-eating bacteria is lurching around, trying to munch on folks' brains. Joe hates shamblers, but he's still the one who has to deal with them. That's just the kind of life he has. Except afterlife might be better word.
From the Battery to the Bronx, and from river to river, Manhattan is crawling with Vampyres. Joe is one of them, and he's not happy about it. Yeah, he gets to be stronger and faster than you, and he's tough as nails and hard to kill. But spending his nights trying to score a pint of blood to feed the Vyrus that's eating at him isn't his idea of a good time. And Joe doesn't make it any easier on himself. Going his own way, refusing to ally with the Clans that run the undead underside of Manhattan–it ain't easy. It's worse once he gets mixed up with the Coalition–the city's most powerful Clan–and finds himself searching for a poor little rich girl who's gone missing in Alphabet City.
Now the Coalition and the girl's high-society parents are breathing down his neck, anarchist Vampyres are pushing him around, and a crazy Vampyre cult is stalking him. No time to complain, though. Got to find that girl and kill that shambler before the whip comes down . . . and before the sun comes up.
Review:
Early on in this novel I thought it was going to be a total fail for me. I wasn't certain of Joe's voice to start with, and then the first female character was introduced. She was simply a bar patron, no one he even spoke to. But the way he ogled her, the way he referred to her only in terms of 'the number,' 'the number in the dress,' etc made me go, "Oh, it's gonna be one of those books." I resigned myself to a disappointing read. 
And while I think the representation of women in the book remained problematic, with one large exception, I really did end up liking the book. The exception is that the plot is based around rape. Several years ago, I started noting in reviews when a book includes rape as a plot device. I started doing this because it's so problematically frequent in books. Since I started, I swear it feels like a full 2/3 of the books I review include it. Are there really so few other options out there to progress a plot? It's not that I take issue with rape in books in general, I take issue with it being all pervasive and everywhere. So, I note it when I see it. And here, in Already Dead it's not graphic, but it's especially heinous, what he's trying to stop. 
Outside of that, I liked Joe. I liked his smart mouth, his gruff attitude, his buried but real soft side. I liked the gritty representation of New York and the inclusion of quite a lot of diversity. Granted, being a dozen years old, the language in the book is sometime a little cringe-worthy, but time ages all things. All in all, I plan of continuing the series.