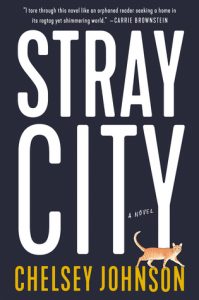 I won a copy of Chelsey Johnson's Stray City
 through Goodreads.
Description:
Twenty-four-year-old artist Andrea Morales escaped her Midwestern Catholic childhood—and the closet—to create a home and life for herself within the thriving but insular lesbian underground of Portland, Oregon. But one drunken night, reeling from a bad breakup and a friend's betrayal, she recklessly crosses enemy lines and hooks up with a man. To her utter shock, Andrea soon discovers she's pregnant—and despite the concerns of her astonished circle of gay friends, she decides to have the baby.
A decade later, when her precocious daughter Lucia starts asking questions about the father she's never known, Andrea is forced to reconcile the past she hoped to leave behind with the life she's worked so hard to build.
A thoroughly modern and original anti-romantic comedy, Stray City is an unabashedly entertaining literary debut about the families we're born into and the families we choose, about finding yourself by breaking the rules, and making bad decisions for all the right reasons.
Review:
I really wanted to love this, but I simply didn't. The writing is lovely and I adored how strongly you could feel the late 90s, Portland lesbian scene. I liked that Andrea had a strong female friend base and that there was quite a lot of diversity in the book.
However, for a book about a lesbian, half the book is dedicated to her single heterosexual relationship; and I didn't even understand why she had that. Sleeping together the once, sure, in the context of the book I could see that. But she didn't particularly like it, so I don't understand why she kept going back to him.
Then, between one chapter and the next a decade passed and we went from a fetus-in-utero to a ten-year-old child. Past the halfway mark, the POV broke from Andrea for the first time, introducing the POV of two other characters. And Andrea was given a lesbian happily-ever-after that felt like an after thought.
Add to all this the fact that I didn't feel Andreas parents payed their dues and that Ryan got some sort of free pass on his behavior, and I just ended the book on a solid, "MEH."