Megan Van Dyke's Second Star to the Left was featured over on Sadie's Spotlight, and though I didn't review the book for the book tour, I did end up with a copy of the book and decided to give it a read.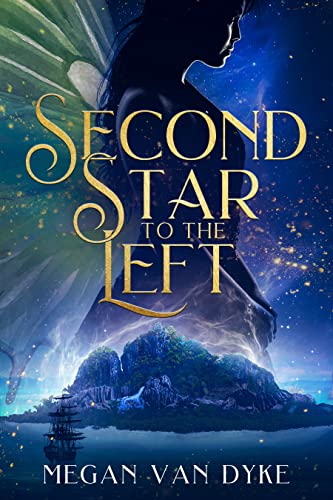 Tinker Bell, banished from her homeland for doing the unthinkable, selling the hottest drug in Neverland—pixie dust—wants absolution.
Determined to find a way home, Tink doesn't hesitate to follow the one lead she has, even if that means seducing a filthy pirate to steal precious gems out from under his…hook.
Captain Hook believes he's found a real treasure in Tink. That is, until he recovers from her pixie dust laced kiss with a curse that turns the seas against him. With his ship and reputation at the mercy of raging storms, he tracks down the little minx and demands she remove the curse. Too bad she can't.
However, the mermaid queen has a solution to both of their problems, if Tink and Hook will work together to retrieve a magical item for her.
As they venture to the mysterious Shrouded Isles to find the priceless treasure, their shared nemesis closes in. However, his wrath is nothing compared to the realization that achieving their goal may mean losing something they never expected to find—each other.


I am not, I admit, overly fond of fairy-tale retellings, and I'm especially suspicious of those that seek to redeem villains and present them as something other than what we know them as. But Van Dyke succeeds in some interesting and unexpected ways. How she got around Tink and Hook's traditional animosity toward one another, to craft a romance between them, was notably clever. So was the recasting of the crocodile.
Having said that, I did think the broader plot was fairly predictable. I saw the "ah-ha' twist coming miles before it was revealed. But predictable or not, I did have fun with this. I love that there really wasn't a lot of angst in the romance aspect of it. Hook was pretty open about wanting Tink, even if he fought it in the beginning. Tink might have been a bit slower on the uptake, but also didn't bother with drama. It was refreshing…and sweet. Yeah, there's some steam in there too. But the romantic aspect wat truly sweet.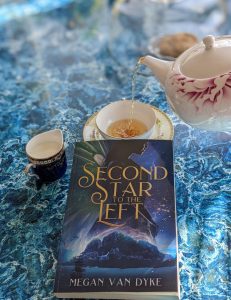 The writing itself is clean and easy to read. There's a bit of repetition in the beginning. But it smooths out. And every now and again a phrase would clang as too real-world, slangy for the fantasy setting—like "no shit," or "it sucked" or "that's a whole lot of nope." But there were few enough not to really matter and I found more lines that made me laugh than raise an eyebrow.
All in all, I enjoyed this a lot. I even managed to pick up a 10 or so page-long epilogue somewhere along the way (probably from the author's newsletter) and read it too. I look forward to more of Van Dyke's future books.
---
Other Reviews:
ARC Review: SECOND STAR TO THE LEFT by Megan Van Dyke
Westveil Publishing – Second Star to the Left by Megan Van Dyke – 3.5 Star Review
Book Tour & Review: Second Star to the Left (Reimagined Fairy Tales #1) by Megan Van Dyke