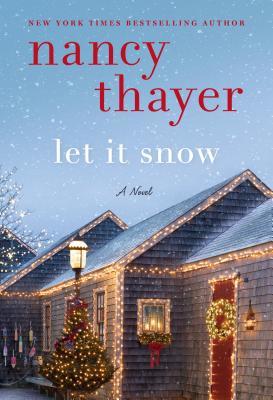 I won a paperback copy of Nancy Thayer's Let it Snow through Goodreads. I read it now, in September, so that I can put it in the Little Free Library with the other holiday themed (or set) books in December.
Description:
Christina Antonioni is preparing for the holidays at her Nantucket toy shop, unpacking last-minute shipments and decorating for her loyal Christmas shoppers. But when her Scrooge of a landlord, Oscar Bittlesman, raises her rent, it seems nearly impossible for Christina to continue business on the wharf.
Even so, Christina hopes there is a warm heart underneath Oscar's steely exterior. When she bonds with Wink, his sweet, young granddaughter who frequents the shop, it becomes clear that perhaps he isn't so cold after all. And with the help of Wink's uncle, who happens to be a charming and very handsome bachelor, this may be the best Christmas any of them could have ever imagined. Nancy Thayer's enchanting Nantucket setting provides the perfect backdrop for this holiday love story.
Review:
This is a hard book for me to review, because everyone's taste varies and this particular kind of book makes me cringe. At about the halfway mark I thought, "This is the sort of book people who like the Hallmark Channel would enjoy." It's completely true. At one point the main character even sits down and watches it herself. Unfortunately, that particular brand of wholesome, clean (read bland in my opinion), never rings true for me. I dislike it extremely. But I also acknowledge that there is a reason the Hallmark Channel has been around as long as it has. There are people out there who love tis kind of feel-good cheese. I'm just not one of them.
So, I'll give it a middle of the road three stars. Acknowledging that the writing is perfectly solid and though I can't relate to a 3-week romance culminating in a proposal, or the crass talk of who is rich and who is poor, or even the fact that everyone refused to get involved in the business issue and that was somehow supposed to be fair, others will no doubt love this.