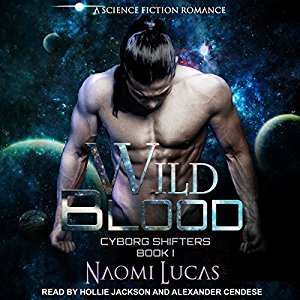 I borrowed an audio copy of Naomi Lucus' Wild Blood through Hoopla.
Description from Goodreads:
Dommik was a monster, a Monster Hunter, and an alpha. Part of an elite group that dealt with the horrors of the universe. At least that was what everyone at the spaceport was whispering as he walked by. A Cyborg, a hunter, a beast with eyes as dark as the pits of Hell and the stride of a predator. 
Katalina was a nobody who was intimate with death. It clung to her like a shroud, It followed her like the plague, and infected her like a parasite. When she overheard that the Monster Hunter needed an assistant, she took the job. And when the Cyborg's eyes caught hers, she knew getting closer to death might just bring her back to life. 
The Cyborg didn't scare her. 
So she followed him and left fate up to chance. 
Review:
This was……
This was interesting, as people in my family would politely say to avoid saying anything bad. I listened to the audio version, so I can't say with certainly that the editing was clean. But I didn't notice any errors in the mechanical writing, as it was read. But the story was…not for me.
I appreciated that the cyborg was less human-like than a lot of sci-fi romance cyborgs. He was truly a melding of machine, altered DNA and man (even during sex). And I appreciated that Kat wasn't a pushover and went after what she wanted.
But there was very little smooth progression in the romance (there was none). Dommik did some things I would find unforgivable. Most of the sex was subtly written using the language of abuse. The closest thing to an antagonist in the book is the only other significant female in the story (and she's the sexy femme fatale archetype too, super cliched). And there's no real plot or world-building beyond giving the characters somewhere to boink, but not so little as to mark this as straight erotica. All in all, I just kind of found this a weak showing in general. Plus, I thought the narration really flat. And sex scenes read with little inflection are awkward beyond belief.