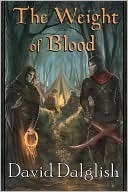 I chose David Dalglish's dark fantasy, The Weight of Blood from the Amazon KDP list. At the time of posting it was still free.
Description from Goodreads:
When half-bloods Harruq and Qurrah Tun pledged their lives to the death prophet Velixar, they sought only escape from their squalid beginnings. Instead, they become his greatest disciples, charged with leading his army of undead.
While they prepare, Harruq trains with an elf named Aurelia, to whom he owes his life. She is a window into a better world, but as war spreads between the races their friendship takes a dire turn.
Velixar orders them to fight alongside the humans, changing Aurelia from friend to foe. To protect her, Harruq must turn against his brother and fight the killing nature of his orcish heritage.
To side with one means to turn on another. No matter Harruq's decision, someone he loves will die.
Review:
The Weight of Blood is some serious Dark Fantasy. I mean dark with a capital 'D', maybe even dark with a capital D.A.R.K.. It isn't a comfortable read. There isn't a lot of joy in it and bad things happen to a lot of good people. I generally like dark fiction, but this one was almost too much for me.
The two main characters, Harruq and Qurrah, can hardly even be called anti-heroes. There wasn't enough hero in them, Qurrah especially. The only humanity [for lack of a more appropriate term] left in him seemed to be his affection for his brother and even that was contaminated by manipulating Harruq for his own nefarious ends. But still, I could at least relate to Harruq. I could see that in other circumstances he would have been a kind soul, might even have still had one despite his HORRIBLE, CRUEL, VILE actions. He killed children for goodness sake!
Relate to him as I might, I had a really hard time reconciling his personality with his actions. Don't get me wrong. I understand that this dichotomy between his natural inclinations and the reality of his circumstances was in large part one of the themes of the book. But his willingness to simply do as told by Qurrah was hard to accept.
The book was well written, though I was left with some very basic questions unanswered. I had a lot of trouble deciding what age H & Q were supposed to be, for example. In the beginning I thought they might be children. Their brotherly attachment was so strong that they felt young, since as people age their social circle tends to broaden and those familiar bonds dilute. Their actions and thoughts quickly made it clear that they weren't children however, but an age was never given. Somewhere between 15-25 maybe. They may even have been twins since their father was only said to have slept with their mother once, but again, this was never clarified.
This isn't a book I enjoyed, but this isn't the type of book one reads to enjoy. Enduring the tragedy of it all is part of the experience, part of removing yourself from your comfortable life to remind yourself what another's life might be like. Having done that, I think I need to go read something light and fluffy, with an unquestionable HEA.