I purchased a Supernatural Book Crate book box and a signed copy of Deborah Wilde's Throwing Shade was included as one of the featured books in the August box.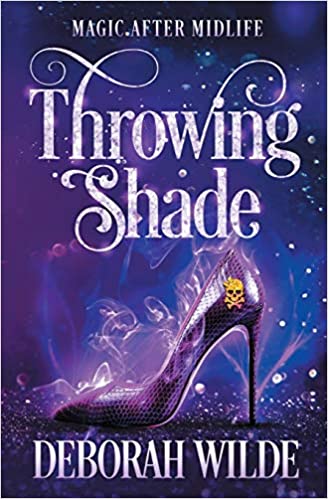 She's ditching her shapewear, owning her hormones, and letting her magic fly free.
Underestimate her. That'll be fun.
It's official. Miriam Feldman is killing it in the midlife crisis department. She's mastered boredom, aced invisibility, and graduated Summa Cum Laude in smiling and playing nice in her post-divorce life. But when a drink with a "good guy" goes sideways, Miriam snaps, and in a cold dark rage unleashes a rare and powerful shadow magic.
To make matters worse, her best friend goes missing and Miri is thrust into a world of hidden magic, vampires, and a legacy of hatred aimed directly at her. Hard to say which is more dangerous, this spiderweb of supernatural power plays, the grumpy French wolf shifter she's teamed up with, or Miri herself, kicking butt and rediscovering the woman who got lost along the way.
But lines get blurred in the shadows, and if she's not careful, she could lose everyone she loves. She'll have to turn her invisibility into strength and pray they never see her coming.
Forty isn't the new twenty. It's better.

I enjoyed this quite a bit. I had a funny moment when I was about halfway through where I was thinking, "Urban fantasy set in Canada with a Jewish heroine and paranormals from Jewish mythos, it reminds me a lot of Blood & Ash and The Unlikable Demon Hunter? Who wrote those again? Deb…Deborah….?" At about this time I walked by the book on the table and caught a glimpse of the author and went, "…Wilde. Deborah Wilde. No wonder it feels familiar. It's the same author." I amused my self.
I have to admit to liking this book more than either of the other two by her that I've read. Not necessarily because it's a better book. I think I just like the older heroine more. I liked Miriam. I really liked Laurent and the banter between the two. I liked Miriam's relationship with her daughter and the world Wilde has created here. Plus, I liked the 40-year-old woman finally learning the fine art of giving no fucks about convention. She lets the snark fly.
I'm not a huge fan of the cover though. I know this isn't really relevant to the book review, and I don't dislike it. I just don't feel like it matches the tone of the book. Sure, there's reference to Miriam taking her heals off after work as a legal librarian. But nothing about her character paints her as quite the fashionista who would wear stilettos to work.
All in all, I'm hoping to read book two and three in the series at some point.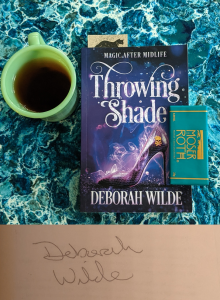 ---
Other Reviews:
Book Review: Throwing Shade by Deborah Wilde
Book Review: Throwing Shade by Deborah Wilde
Throwing Shade (Magic After Midlife, #1) by Deborah Wilde