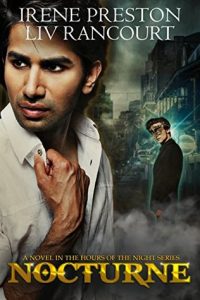 I received a copy of Nocturne, by Irene Preston and Liv Rancourt, from the authors for review. I reviewed others in the series here, here and here.
Description from Goodreads:
For generations, the White Monks have treated the vampire Thaddeus Dupont as a weapon in their battle against demons. However, when a prominent matron drops dead at a party, Thaddeus and his lover Sarasija are asked to find her killer. Their investigation leads them to an old southern family with connections everywhere: Louisiana politics, big business, the Church, and an organization just as secret as the White Monks.
Meanwhile, an esoteric text containing spells for demon-summoning has disappeared, Thaddeus is losing control of le monstre, and Sara is troubled by disturbing dreams. These nightmares could be a side-effect of dating a vampire, or they could be a remnant of his brush with evil. As the nights wear on, Sara fears they are a manifestation of something darker – a secret that could destroy his relationship with Thaddeus.
Review:
I really think this was my favorite so far in the series. I liked seeing a bit more of Thad's "le monstre." I liked that there wasn't so much angst about his perceived sins and I liked that Sara had struggles of his own, outside of getting Thad to accept his love. Plus, they were sweet together and I thought the writing was just really good.
I did think it dragged just a little and I was disappointed to end the book not knowing what's up with Sara's situation. I assume this is the next book, but it was a pretty big issue to go not only unresolved, but undiscussed even.
All in all, I can't wait for the next one.