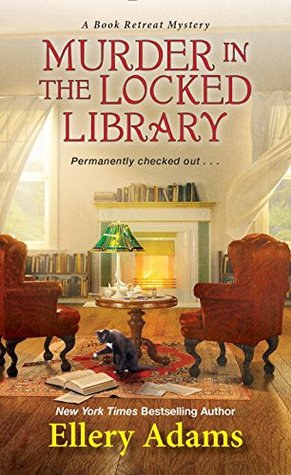 I won a paperback copy of Ellery Adams' Murder in the Locked Library through Goodreads.
Description:
Welcome to Storyton Hall, Virginia, where book lovers travel from near and far to enjoy the singular comforts of the Agatha Christie Tea Room, where they can discuss the merits of their favorite authors no matter how deadly the topic . . . 
With her twins, Fitzgerald and Hemingway, back in school, Jane Steward can finally focus on her work again—managing Storyton Hall, and breaking ground on the resort's latest attraction: a luxurious, relaxing spa named in honor of Walt Whitman. But when the earth is dug up to start laying the spa's foundation, something else comes to the surface—a collection of unusual bones and the ragged remnants of a very old book. The attendees of the Rare Book Conference are eager to assist Jane with this unexpected historical mystery—until a visitor meets an untimely end in the Henry James Library. As the questions—and suspects—start stacking up, Jane will have to uncover a killer before more unhappy endings ensue . . .
Review:
A book-themed murder mystery, heck yeah, I expected to love this. But honestly I just didn't. It wasn't bad, but I also wasn't impressed. Jane is supposed to be the guardian of a trove of dangerous books and the leader of a secret society, complete with martial guards and lifelong legacies, etc. But I never felt the gravitas of it AT ALL. This is very much a cozy mystery and that just doesn't fit what the author was trying to create. 
What's more, there are A LOT of descriptions. In fact, I think if you took all the superfluous descriptions out, this would be about a 60 page book. Not a lot actually happens. And honestly, since so many of the descriptions are about book-themed decorations, or cakes, or food, it all just eventually felt like author wish fulfillment. I'm very much a bibliophile, but eventually it started to just feel pretentious. These descriptions did a lot more to stall the plot, than progress it, in my opinion. 
It is also one of those mysteries where the characters spend 75% of the book trying to solve it, and then the villain does something drastic and gives themselves away (with a bit of monologuing along the way), such that the heroine doesn't actually solve the mystery. It solves itself. 
This is book four in a series. So, I'm guessing some people must like this style of story telling a lot more than me. Otherwise, there wouldn't be a whole series. This one is readable, even if you haven't read the first three (like me). You feel the lack of those first books, a few things aren't explained (such as what exactly a Fin is), but you figure them out. And there is a subplot about a missing boyfriend that is obviously a carryover from a previous book and lead-in to a next. But none of it prevents you understanding the events of this one. 
It's not all bad. I did like the characters and the writing is perfectly readable. I think it's just a little too Dan Brown meets Mrs. Marple for my tastes.