I purchased a copy of Eva Chase's The Stalking Dead.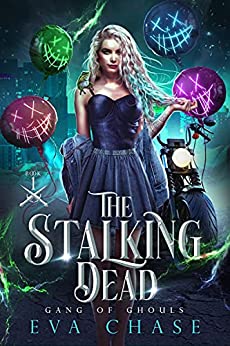 Kinda dead. Straight-up psycho. Totally obsessed with her.
I did a bad, bad thing.
Thanks to a blank in my memory, I'm not sure what that thing was, but it was horrible enough to get me locked up in the mental ward for seven years. Horrible enough that my little sister won't even speak to me.
But when I'm released back into a town determined to rub my unknown sins in my face, the past isn't the only thing that's haunting me. The four "imaginary" friends who made my childhood bearable barge into my life in a very real way.
They're crude, criminally inclined, and more than a little unstable after ages trapped in afterlife limbo. All they want is to protect me. Worship me. Avenge me.
So they'll bludgeon, maim, eviscerate—tear a strip of havoc right through this sleepy town.
Even rise from the dead.
Maybe I'm still not all that sane either, because part of me finds them strangely appealing. In ways very different from how I felt as a kid. And that's not the only strangeness stirring inside me…
I promised myself I'd stick to the straight and narrow from here on. But what if the only way to set things right is to get a little ghoulish?

The writing and editing are perfectly competent. The book is easily readable. But…'Meh.' I thought this was entertaining enough but ultimately disappointing.
First off, the blurb set my expectation of the 'Gang of Ghouls' high. Sure, the blurb says afterlife, but the title says ghouls. So, I expected something at least a little monster-like. Instead, the ghosts just possess the main character's bullies. So, they are fully phenotypically human. Then, the blurb tells us they "bludgeon, maim, eviscerate—tear a strip of havoc right through this sleepy town." They do no such thing. They're violently inclined, sure, but she is constantly telling them not to be and stopping them. They do very little in the grand scheme of things, honestly.
And while I thought them funny (and Ivery much appreciated how low-angst the why choose aspect was between them), I also thought they were idiots. It just got hard to take the chuckle-heads seriously enough to be true bad-boy romantic leads.
Add to that the fact that most of the tension in the book comes from campus bullies—the college campus feels a little too like a high school, really—and I found it all just a little too cliched. Her main foil, for example, is a girl who is jealous because the boy she likes is paying attention to the main character. Can we let this jealous girl villain—which has to be one of the most over-used in all of romance—dies already? I'm tired of reading it. I'm tired of what it tells me we've all internalized about other women and ourselves.
I spent a lot of this book waiting for it to grab my attention. But there are obviously some more interesting things happening in the wings that will come up in future books. The cliffhanger ending [and how tired am I of books that don't end…very] speaks to that. But I felt like they all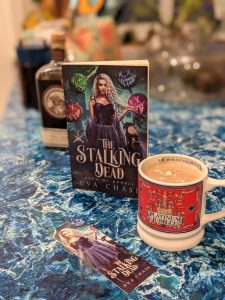 got held until about the last 1/3 of the book. So, for a lot of the time, I was waiting, waiting, waiting.
I would continue the series to see how those things develop if I could find a copy at a library, borrow one, or find a freebie. But I don't think I'd buy it. (I rarely do if it looks like each one will end on a cliffie. Why bother unless you get them all? And that's a different decision matrix entirely.)
So, all in all, not a complete dud. But still, a 'Meh' read for me.
---
Other Reviews: