I picked up my copy of Mallory Dunlin's Captured by the Fae Beast as an Amazon Freebie, and I think I received Claimed by the Flame of Faery from the author. I'm usually very good at keeping track of such things. But I have admittedly been a little distracted with school, and my logging system has kind of fallen apart. I suspect I probably owe an apology for taking a while to read the book because I had no record of having accepted an ARC. That is 100% on me. I dropped that ball. (I really hope it's the only one.)
Those who are paying attention will also notice that this is books 1 and 3 of the series. (They all stand alone, so I don't know that the numbers matter.) But I only read these two because I only own these 2.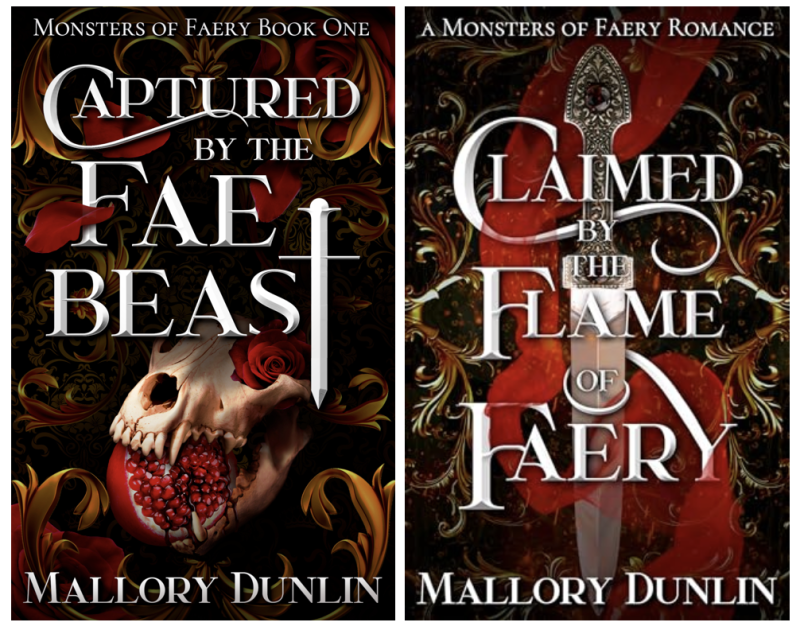 About Captured by the Fae Beast:
I never intended to become a princess. Or make a deal with a monster.
Lost in the wilderness, I thought the handsome stranger was my salvation—until I looked into the eyes of a beast.
They say not to bargain with the fae, but there was no other choice.
The deadly prince of Stag Court claims I belong to him. I only have a year and a day to convince him to let me go before I'm his forever.
He's without mercy, known as a ruthless killer. Yet he protects me. Defends me. Tells me his secrets. In front of the Court, he's the Beast, but behind closed doors he gives me the chance to choose him, or not.
The fae Court is a dangerous place, and the prince isn't the only terror lurking in the shadows. But I'm stronger than his enemies give me credit for. Together, he and I might be each other's salvation… or ruin.
My Review:
I must begin by acknowledging that this book was not at all what I was expecting. I thought it was going to be a dark fantasy romance. So, imagine my surprise when I got into it and found that it is actually incredibly sweet. I've been tempted more than once, even to go so far as to call it cozy. Though not an actual cozy mystery, it at times has that everything-will-be-right-with-the-world coziness.
Dain stole the show for me. He has all the markers of an alpha a-hole hero but just isn't. The way he learns to ask plainly for what he wants is completely heartwarming. I think watching him brave hope (the most dangerous thing, really) made my heart grow two sizes. I liked Leah, too, of course. I liked that she was attuned to Dain's quirks, willing to give him grace when he messed up, and simply a good person. But I was team Dain, all the way.
I did think Leah accommodated to living in a new world far too easily. She took on the duties and skills of the fae court (and war) with an ease that belied belief. I also thought the villain's motives were incredibly cliched. We've all read some version of it too many times to consider it interesting. In fact, considering how deftly other aspects of the book were handled, I thought the overused villain type and their motives an odd departure. Lastly, the book meandered a little at times, feeling padded and overly long.
All in all, however, I enjoyed this and can't wait to read more of Dunlin's work.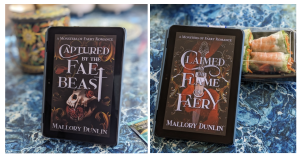 About Claimed by the Flame of Faery:
I meant to slay the dragon—not save him.
All my life, I've known what it means to be a human in Faery, and I've always fought back. But when my father attacks a half-dragon duke – and fails – I make the only bargain I can think my life for my his.
I expect to be treated like a slave, but my new master keeps me in luxury. There's no escape from the beautiful, deadly fae duke—and I'm determined to use my position to help the other mortals in Faery.
But the more I learn about him, the more I want to know. He's fascinating. Passionate. Every time he touches me, I want to beg him to never stop. There's far more to the Flame of Faery than I ever expected.
His secrets bind him like thorned vines. His enemies lurk in the shadows. They know how to deal with a dragon… but they don't know how to deal with me.
If I save him, my debt is paid. But I'm starting to fear that I'll never want to leave…
My Review:
I had a mixed opinion of this book. On one hand, I was amused. I enjoyed spending time with the characters. I liked them, and I liked that Dunlin presented us with a male lead that gleefully broke a lot of the expected male characteristics. On the other, I didn't really feel the chemistry between the two, and I didn't particularly believe that Varistan would have avoided telling her the big secret as long as he did when he was given every incentive to do so. In fact, it was a solution to the one impediment that Bells kept saying was the reason she wouldn't be with him. Further, when the secret came out, and she was predictably hurt by it, I do not feel like Varistan made anywhere near enough reparations. It felt very much like he shrugged and then just stood around and waited for her to get over her hurt. It was not enough for me by a long shot.
All in all, however, I liked this a lot and will be looking for more of Dunlin's work.
---
Other Reviews: