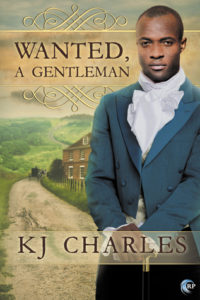 I received a copy of K. J. Charles' novel, Wanted, A Gentleman from Netgalley.
Description from Goodreads:
By the good offices of Riptide Publishing
KJ Charles's new Entertainment
WANTED, A GENTLEMAN
Or, Virtue Over-Rated
the grand romance of
Mr. Martin St. Vincent . . . a Merchant with a Mission, also a Problem
Mr. Theodore Swann . . . a humble Scribbler and Advertiser for Love
Act the First:
the offices of the Matrimonial Advertiser, London
where Lonely Hearts may seek one another for the cost of a shilling
Act the Second:
a Pursuit to Gretna Green (or thereabouts)
featuring
a speedy Carriage
sundry rustic Inns
a private Bed-chamber
***
In the course of which are presented
Romance, Revenge, and Redemption
Deceptions, Discoveries, and Desires
the particulars of which are too numerous to impart
Review:
K. J. Charles is one of those authors I know I can depend on for a stellar read and Wanted, A Gentleman did not disappoint. However, I also have to admit that I didn't love it as much as past Charles book. The whole thing just felt a little more one-dimensional than past books. Some of this is no doubt because the plot is rushed, by which I mean the characters are in a rush in the plot. But some of it is just that it is a mush straighter, less elaborate plot-line than other Charles' books I've read. This isn't necessarily a bad thing, but it didn't light me up quite so much.
Having said that, I did think Martin and Theo were marvelous characters. They felt very real to me. I liked the complicated emotional quandary Martin was stuck in and, of course, the sex was hot. The book wasn't a home run for me, but not a foul ball either.