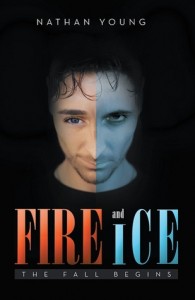 I won Nathan Young's novel Fire and Ice, The Fall Begins in a Goodreads First Reads giveaway. (For the record, that cover freaks me out a little bit. Don't know why though.)
Description from Goodreads:
Danny Patterson never promised that he was a good man, and despite his experiences living in Leigh Park, he is actually quite vulnerable. But with Stacy Ryan at his side, he is finally beginning to find some closure. He has fought for what he believes in on many occasions, however when he finds himself the prey of Alistair Carter and a sinister group known only as The Rogues, he is inadvertently pulled into a grotesque game of cat and mouse from which he may not survive. 
Death waits for no man; today, the fall begins…
Review (with slight spoilers):
It was alright, I guess. This was a Firstreads win and one of the joys of the giveaways is that you chance winning something completely outside your normal reading area. From Fire and Ice's blurb I wouldn't have thought this one was too far outside of mine, but I think this book has a fairly specific target audience, that of the young English male. For the record I'm a 35 year old, American female. 
I think the book would be most enjoyed by this particular group of people for a few reasons. First, despite living in England for several years I didn't have enough of an intuitive understanding of what Leigh Park is, and therefore didn't have the automatic knowledge that the authors presumes readers will possess. Apparently people coming out of the area will naturally be tough motherfuckers by virtue of growing up there. If it had been set in Camden, NJ or East St. Louis, IL  I might of understood this, or if I was English and familiar with Leigh Park's reputation. But it isn't and I'm not, so I was a little too slow on the uptake in the beginning. I didn't initially grok why Danny was such a good fighter and shot without having been trained in any way. It didn't make much sense to me. He felt too good at everything. 
Now I'm not saying all books need to be targeted to an American audience or anything so horribly nationalistic, especially since I was IN ENGLAND when I won it…well within the geographic confines of what I would consider it's targeted readership. I just could have done with an info-blurb or something in the beginning that others probably wouldn't have needed. [Unless, of course, Danny's exceptional skill isn't meant to be the result of growing up on a run down, gang infested council estate, but then I would have to take exception to it for other reasons.]
Secondly, there are quite a few descriptions of the specifications and capabilities of cars and guns in the book. Here is an example:
The SA-8OA1 was the standard issue assault rifle and light support weapon of the British Army. Manufactured jointly between BAE systems and Heckler & Kock, it entered service in 1987. It had an effective range of 450 metre's when fired with an aperture iron sight whilst later variants of the rifle were kitted out with telescopic SUSAT sights. Gas operated and using rotating bolt mechanism, the SA-8O fired the 5.56 x 45 mm NATO cartridge fro a 30-round detachable STANAG magazine and had a fully automatic rate of fire of between 610-775 rounds per minute.
Now, as a woman, I honestly just don't care. 'He had a big gun' would have been enough for me, but if I was a young man or a gun enthusiast (who knew what half of that meant) I might be thinking 'right on.' 
I don't think I was the intended demographic for this novel, but that doesn't mean I didn't enjoy any of it. I appreciated the friends loyalties to one another. For some reason I really liked Ade. I'm not even certain why, but I did. I enjoyed the small normal moments, like stopping for a cup of tea (though Carter did anomalously enter the tea area to drink coffee on occasion, shock/horror) or enjoying a good bacon sarni. This went a long way toward providing the reader a peek into their lives and humanizing them. I also appreciated the fact that it didn't have a cookie cutter happy ending, which would have been really unrealistic in this circumstance. As the first in a series the book definitely ends on a clanger that makes you want to know what is coming next and looks to focus on far more than one man's fight to save himself and his loved ones. 
There is some repetition in the writing. I seem to recall someone, probably Danny, sinking into 'dark darkness,' the word instantly being used three times in one paragraph, and slight three times in two sentences. There isn't anything inherently wrong in these examples, but such things always drag me out of the fantasy and force me to notice the words on paper.
In the end, while I openly expect that others will whole-heartedly love this book, the best I can say is that it was OK. I couldn't help wondering why it focused on Danny (especially since the initial hit wasn't intended to be him in the beginning). Surely the police, his friends, the bad guys, etc would be more interested in the person whose identity set the whole mess off in the first place than his friend. I also wondered why everyone was so willing to just let him take care of everything, as if no one else was involved. Why the protagonist and antagonist wanted each other dead very very badly, but somehow never simply shot each other. They both had numerous opportunities.  There seemed to be some drastic leaps of logic, where a character knew A and therefore immediately knew B, with no apparent reason why. For example, how Paul knew that the relatively common name 'Carter' must be Alistair Carter, a man he presumably hasn't seen in ~20 years, doesn't know Danny, and would have no obvious reason to be involved in what might otherwise be presumed to be a basic gang turf war. Some extreme decisions are based on this knowledge, but I can't fathom how he could be so certain. And I never could reconcile the cold killer in the beginning with the man Danny was at the end. It was meant to have come full-circle, but they didn't feel like they met up to me.