Here we are at last, reviewing the last Wolf Marked book in my Wolf Marked reading challenge. As a reminder, three different books titled Wolf Marked were promoed on Sadie's Spotlight fairly close together.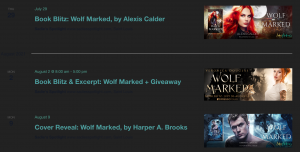 I was so amused by this that I decided to read and review all three. The whole thing took a little longer than I usually like challenges to, because I had to wait for the last Wolf Marked (this one by Harper A. Brooks) to actually become available. In fact, it doesn't actually comes out until the end of this week. I got to it a little early as a for-review ARC through Lady Amber's Reviews & PR.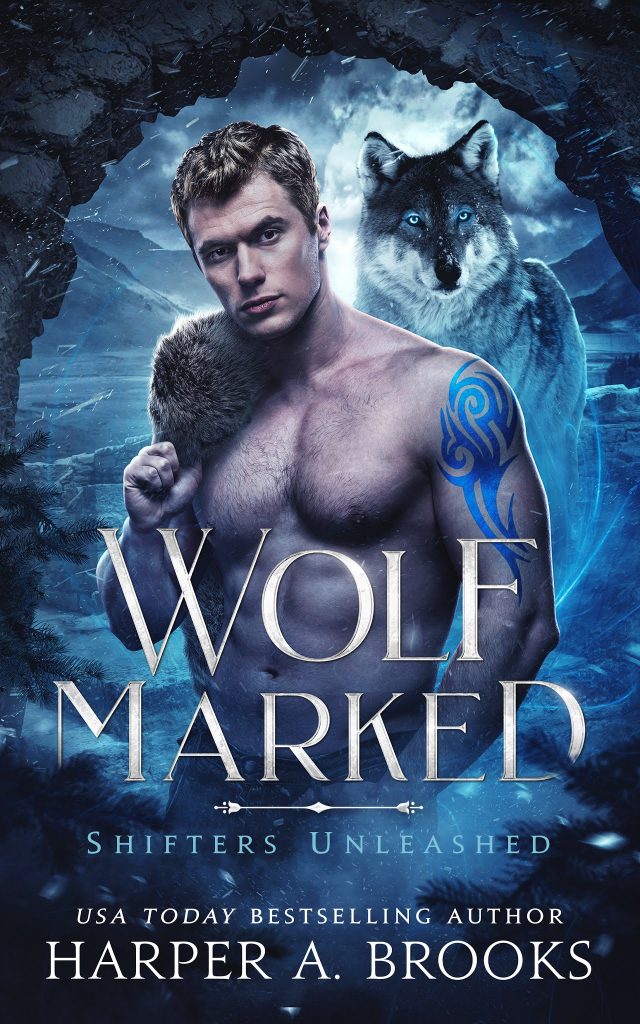 The cycle of the moon can bring love… or death.
Time is running out for Astrid. If the wolf-shifter doesn't find her soul's mate before her twenty-fifth Blue Moon rises, the consequences will be fatal. With only three weeks left, things aren't looking good… until Erec, a smooth-talking rogue wolf, lands at her feet.
The strange spark between them leaves Astrid wondering if this mysterious man could be the one meant to break her curse. But can she trust him?
From the moment Jerrick killed the only man Erec ever looked up to, Erec vowed to stop the crazed wolf. Partnering with the west-side pack seemed the logical move to accomplish that goal. But he never expected to fall for the alpha's beautiful daughter, and now this lone wolf is wondering if she could be the one to save him from the curse.
With imminent dangers looming and the swirling patterns on their skin marking them for death, can Astrid and Erec save the west-side pack from the encroaching pack before their last Blue Moon rises in the sky?

This wasn't bad, if you like the kind of thing. I acknowledge that it's competently written and edited and has a great cover. But I was only so-so on the book for personal preferences kind of reasons. Mostly, I consider a lot of the plot components low-hanging fruit in the storytelling department.
If you're going to design a whole new fantasy world, but populate it with all the same mores, biases, and social norms as the real world, I consider it kind of lazy. And that's what Brooks does here. One of primary tensions of the book is a woman who is always struggling to exist outside of men's protective shadows. She's considered amazing because she excels at some skills considered male. She (and other women eventually) want to prove themselves, so she convinces leadership to let women participate in some previously male-only activities and show themselves to be competent and useful. (There is no acknowledgement of the importance of female skills, only that women are equal because they too can do the things men do. But that's another issue all together.)
Similarly, you see the big reveal (twist) coming about a mile off. It's another plot device that's frequently used. Having said all of that, both are tied into Brooks' plot nicely and aren't even overly ham-fisted. So, if you like this sort of story, I imagine you'll like this one. It's not badly done. It's just been done and done and done again.
I will grant that Brooks' claim "each book in the Shifters Unleashed series can be read as a standalone," is proved true. I always distrust being told a book in a series can be read as a stand-alone. I've been burned so many times. But here it is 100% true. Other than sharing one origin myth, Wolf Marked and Tiger Claimed (which I also reviewed) have zero cross-over. They truly can be read as stand-alone books. I think whether you choose to and how much you'll enjoy them will truly come down to a matter personal preferences.